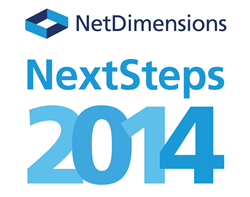 Rocky Hill, CT, USA (PRWEB UK) 17 September 2014
NetDimensions (AIM: NETD; OTCQX: NETDY), a global provider of performance, knowledge, and learning management systems, announces the opening of the 2014 Next Steps user conference for North America in Chicago, IL.
"We are very excited to meet up in Chicago again this year. We are seeing tremendous interest in Next Steps from our clients and partners, which shows how vibrant and involved our user community really is. We look forward to some very engaging and fun days in Chicago," said Alex Poulos, NetDimensions' Chief Marketing Officer.
The Next Steps 2014 events schedule and locations are as follows:

North America regional user conference: Sep. 17-18 in Chicago, IL, USA
Global user conference: Oct. 16-17 in London, United Kingdom
"We would like to thank our Platinum sponsor, Cegos, and our Gold sponsors, BIOVIA and Curo Compensation, for being with us this year. We are extremely pleased to see this level of involvement from our partners at Next Steps and beyond," added Poulos.
The first day of the user conference in Chicago features a full day of interactive sessions that will cover a variety of topics, including advanced compliance management, new competency models, talent analytics, mobile learning, and user experience personalisation in global environments.
On the second day of the conference, attendees will have the opportunity to participate in different training tracks that will provide practical insights into the new capabilities of the NetDimensions Talent Suite.
For more information about the Next Steps 2014 event in Chicago, visit http://www.netdimensions.com/events/next-steps-2014/chicago/index.php.
For more information about the upcoming Next Steps 2014 global event in London, visit http://www.netdimensions.com/events/next-steps-2014/london/index.php.