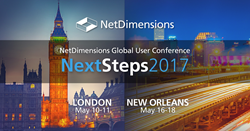 Hong Kong (PRWEB) April 26, 2017
NextSteps 2017, NetDimensions' annual global user conference, will be hosted in EMEA and North America this May on the following dates:
● London, UK from May 10-11
● New Orleans, USA from May 16-18
Donald H. Taylor, Chairman of the Learning and Performance Institute will be the opening keynote speaker at the NextSteps EMEA conference, while David Wentworth, Principal Analyst, Learning and Development (L&D) at Brandon Hall Group will present the keynote at NextSteps North America.
Taylor will also moderate a panel discussion focusing on the business impact of learning. The panelists are L&D professionals and experts from Fosway Group, Fresenius Medical Care and Thales Learning and Development.
NextSteps delegates will have access to hands-on training workshops on NetDimensions Talent Suite administration, as well as a variety of conference topics, including talent and learning analytics, and creating personalized learning experiences.
Talent and learning management leaders from global organizations including BAE Systems, BCD Travel, 3Shape, GMC Software, Moody's Analytics, Medical University of South Carolina, Takeda Pharmaceuticals, and The University of Kansas Health System will present best practices for implementing NetDimensions' solutions to reach their organizations' strategic goals.
Delegates will also have the opportunity to meet NetDimensions' partners, including conference sponsors Speexx, eXact learning solutions and Dreamtek. NetDimensions' new sister companies, LEO and gomo learning, are sponsoring the conference as well.
For complete details, visit the NextSteps 2017 conference website.
About NetDimensions
Established in 1999, NetDimensions is a global provider of learning, knowledge and performance management solutions to highly regulated industries.
NetDimensions provides companies, government agencies and other organizations with talent management solutions to personalize learning, share knowledge, enhance performance, and manage compliance programs for employees, customers, partners, and suppliers.
NetDimensions' solutions also include custom content and learning portal development services, as well as off-the-shelf course libraries and regulatory compliance courseware developed by NetDimensions' subject matter experts and content partners.
NetDimensions' award-winning solutions have been chosen by leading organizations worldwide including ING, Cathay Pacific, Chicago Police Department, Geely Automotive, Norton Healthcare, and Fresenius Medical Care.
NetDimensions is ISO 9001 certified and NetDimensions' Secure SaaS practices are ISO 27001 certified.
NetDimensions is part of Learning Technologies Group plc (LTG).
For more information, visit http://www.NetDimensions.com or follow @netdimensions on Twitter.