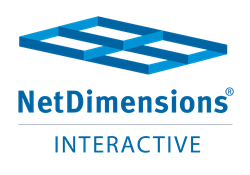 Rocky Hill, CT (PRWEB UK) 19 November 2013
NetDimensions (AIM: NETD; OTCQX: NETDY), a global provider of performance, knowledge, and learning management systems, announced today that Royal Caribbean Cruises Ltd. has selected NetDimensions Interactive, a business unit of NetDimensions that focuses on custom content and application development services, to create online, self-paced learning modules for the new shipboard property management software that the company will eventually roll out on the 35 ships in the Royal Caribbean International Celebrity Cruises® and Azmara Club Cruises® fleet.
"We chose NetDimensions Interactive for its proven expertise in developing asynchronous software simulation courses, for their solid content development project management processes, and for their creative implementation strategy," said Stuart Savage, Training & Development Consultant in the Global Learning & Organizational Development Department at Royal Caribbean.
With more than a decade of experience and a seasoned development staff, NetDimensions Interactive offers strategic eLearning consulting, custom courseware development, interactive portals, and mobile learning solutions.
"Royal Caribbean has chosen the right path to ensure rapid adoption of the new shipboard system. Providing employees with the ability to learn at their own pace, in an online simulated environment, is the best way to train on any new software. Ultimately, employees will adapt to the new system faster, resulting in improved guest services overall," explained Peter Barrett, President of NetDimensions Inc. and General Manager of NetDimensions Interactive.
The first ship crew will access their software simulation training this December for a January ship launch, with staggered rollouts on additional ships in February and March 2014.
"Eventually, the online training courses developed by NetDimensions Interactive will be consumed by over 10,000 Royal Caribbean employees, including those who will work aboard Royal Caribbean International's Quantum of the Seas, launching in November 2014," added Savage.
The online training for the new property management software will support an enterprise-wide initiative that will streamline existing guest and crew handling processes, and help automate the loading of guest reservation information to the fleet in a more real-time manner. Uniform, online employee training on the software will enable RCL operations to provide a higher level of customer service, improve business results, standardize the fleet, and simplify the operational environment.
About Royal Caribbean Cruises Ltd.
Royal Caribbean Cruises Ltd. is a global cruise vacation company that owns Royal Caribbean International, Celebrity Cruises, Pullmantur, Azamara Club Cruises and CDF Croisières de France, as well as TUI Cruises through a 50 percent joint venture. Together, these six brands operate a combined total of 41 ships with four under construction. They operate diverse itineraries around the world that call on approximately 460 destinations on all seven continents. Additional information can be found on http://www.royalcaribbean.com, celebritycruises.com, azamaraclubcruises.com, pullmantur.es, cdfcroisieresdefrance.com, tuicruises.com, or rclinvestor.com.
About NetDimensions
Established in 1999, NetDimensions (AIM: NETD; OTCQX: NETDY) is a global provider of performance, knowledge, and learning solutions.
NetDimensions provides companies, government agencies and other organizations with talent management solutions to personalize learning, share knowledge, enhance performance, foster collaboration, and manage compliance programs for employees, customers, partners and suppliers.
Recognized as one of the talent management industry's top-rated technology suppliers in overall customer satisfaction, NetDimensions has been chosen by leading organizations worldwide including ING, Cathay Pacific, Hunter Douglas, Chicago Police Department, Geely Automotive, Fugro Group, and Fresenius Medical Care.
The NetDimensions Interactive business unit provides content and application development services to personalize the learning experience.
NetDimensions is ISO 9001 certified and NetDimensions hosted services are ISO 27001 certified.
For more information, visit http://www.NetDimensions.co.uk or follow @netdimensions on Twitter.