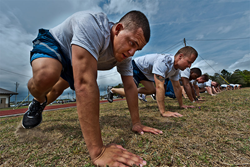 Understanding the nature of these ingredients will make it possible to assess the pre workout formulas and pick the best formula for your particular needs.
West New York, New Jersey (PRWEB) March 13, 2015
Pre-workout supplements have become a staple in the fitness community. That's because they're formulated with ingredients that work together to ramp up energy, endurance, increase strength, which in turn helps increase muscle growth, and burn off body fat. It is similar to a domino effect however the actual benefits one can reap from any given supplement will depend on which particular formula is chosen, because there are a lot of options. So consumers can be selective when browsing.
A classic example of this is caffeine; not everyone likes to take high doses of caffeine because they are either particularly sensitive to stimulants or would rather enjoy a nice strong cup of coffee before training. In which case a caffeine free formula, would be a better choice.
Think about it, working out is "mentally" and "physically" tiring. Often our days get the better of us and when we get to the gym, well it's not intense to say the least. Pre workouts are designed to help with mental focus while sending blood and oxygen right to your muscles, which should be working hard at this point. The results are often night and day.
Choosing the best pre-workout supplement can be a real minefield because there is so much variation between brands in terms formulas, ingredients used, and the actual dosages of those ingredients that are provided per serving. Then of course there is the fact that everyone's body chemistry is different, and what works great for one person doesn't work for the next person. This is completely normal, which is why it is common to try a few different formulas before finding an optimal formula
Here are some common pre-workout nutrients and what they assist with:
ARGININE is one of the most popular pre-workout ingredients because the body readily converts it to nitric oxide (NO) which is known for increasing oxygen and blood flow to the muscle.
BETA-ALANINE is an amino acid that combines with the amino acid histidine in muscle cells to form carnosine, which is critical for muscle strength. Research suggests that, during high intensity weight training or sprint work, beta alanine can reduce the symptoms of fatigue. Additionally, supplementation with beta alanine may improve the muscular endurance of older adults, as carnosine declines with age.
BETAINE is a modified amino acid known as trimethylglycine. It's effective for boosting muscle strength and power and for boosting muscle protein synthesis in the body.
BRANCHED-CHAIN AMINO ACIDS (BCAAs) include the three amino acids leucine, isoleucine, and valine. They're important for driving muscle growth, increasing energy, and blunting fatigue.
CAFFEINE is a powerful stimulant that increases alertness by binding to receptors in the brain. This keeps nerve activity up and fatigue down. A cup of coffee is just under 100mg of caffeine, so that can be used as a gauge when assessing these formulas.
CITRULLINE MALATE is a combo of the amino acid citrulline and malic acid. It increases energy levels by removing ammonia from the body—a process that delays fatigue and improves recovery.
CREATINE provides muscles with the quick energy they need during workouts. It also pulls more water into the muscles for a greater pump, which turns on processes that lead to greater long-term muscle growth.
GLYCEROL is the backbone of triglycerides—the primary fats in our diet. It also has strong osmotic properties, attracting and binding large amounts of fluids like water for greater pump.
TAURINE is an amino acid that helps to increase muscle endurance and strength. It can increase blood flow to muscles by enhancing NO production. Taurine also draws water into muscles for a bigger pump.
TYROSINE is an amino acid that boosts energy, mood, and mental focus by producing hormones and neurotransmitters that boost's intensity during workouts.
These are the most popular ingredients and are rampadely found in top pre workout formulas. Again pre workouts are not miracle drugs; they simply help by giveing an extra push, so that you can really tear up those muscle fibers! But without the physical work they won't do much as far as any gains are concerned.
NetNutri has carried pre workouts since the original Gaspari SuperPump 250 was released in 2004, and over the years we have seen plenty of formulas. These 5 particular pre workout supplements have been proven to be the best based on user reviews and popularity. Remember there are literally hundreds of pre workouts, be specific when choosing.
NetNutri.com's Top 5 Pre-workout Supplements of 2015 are EXT GO, Cellucor C4, Gaspari Nutrition Super Drive, GAT Jetfuse and BSN NO Xplode. To see a wide array of Pre-Workout Supplements click here.
To read more about this topic, the full article can be viewed at http://www.netnutri.com/Blog/cat/pre-workout/
Disclaimer
These statements have not been evaluated by the FDA. These products are not intended to diagnose, treat, cure, or prevent any disease.
About The Company:
Here at Netnutri.com our goal is to help our customers save there hard earned money by providing the lowest prices on thousands of natural health, body building, baby and pet products everyday!
Contact:
NetNutri.com
West New York, New Jersey
877-430-0089
info(at)netnutri(dot)com