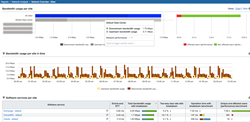 NetPod uniquely understands application logic and user behavior for the leading applications, databases and middleware and closes the gap between network and application teams, giving them a unified set of insights.
Waltham, Mass. and Costa Mesa, Calif. (PRWEB) December 02, 2014
Dynatrace and Emulex Corporation (NYSE:ELX) today announced NetPod™, a fully integrated solution that combines Dynatrace's Data Center RUM (DC RUM) analysis with Emulex's EndaceProbe™ Intelligent Network Recorders. NetPod provides network teams with high-fidelity network and application transaction-level visibility and long-term packet storage. NetPod hardware-based EndaceProbe INRs provide 100 percent packet capture, nanosecond time stamping, and "back-in-time" playback capabilities, as well as a platform for user experience monitoring. NetPod enables optimization of the performance, scalability and predictability of all applications in the data center, including Citrix, SAP, Oracle, Siebel, Microsoft Exchange and many others.
Tweet this: .@Dynatrace and @Emulex Deliver NetPod for AA-APM with High-Speed Network Data Capture and Storage: http://bit.ly/1vkS5N3 #GartnerDC
"NetPod is the result of more than a year of collaboration between Emulex and Dynatrace, motivated by demand from mutual enterprise and service provider clients," explained John Van Siclen, general manager at Dynatrace. "NetPod uniquely understands application logic and user behavior for the leading applications, databases and middleware. This integrated solution closes the gap between network and application teams, giving them a unified set of insights to manage their digital channels and infrastructure."
NetPod is a solution designed for high-speed 10/40/100Gb Ethernet networks to provide complete visibility across multiple tiers, infrastructure components and web and non-web applications. It intelligently monitors and records real-time application transactions across the most complex application delivery infrastructures spanning all leading load balancers, firewalls, servers, WAN accelerators, and middleware.
"Today's IT teams need end-to-end tools capable of doing more than assisting in monitoring and identifying performance issues," said Ali Hedayati, senior vice president and general manager, Network Visibility Products, Emulex. "Whether the problem is isolated to the client, network, server or database, the underlying packet data provided by NetPod can be used to ensure that the technology team responsible is provided irrefutable evidence of the true source of the problem. The application context provided by NetPod also supports rapid extraction of the right packets at the right time, even when a transaction of interest occurred in the past. All of this simplifies the delivery of mission-critical, network-centric applications and increases the business value of these applications by ensuring their availability to end users."
NetPod will be available in Q1 calendar 2015 from select Emulex and Dynatrace partners with the requisite expertise in AA-NPM and APM. Forsythe and WWT were chosen as launch partners in North America because of their expertise in AA-NPM and APM, and ability to support NetPod customers.
"NetPod delivers a solution for our customers' most complex network and application performance issues," said Kevin Keuning, vice president, systems solutions, Forsythe. "Network teams deploying complex, multi-tiered applications need people and tools capable of efficiently troubleshooting the root cause of network performance problems, and in turn, the information and processes necessary to facilitate communication and cooperation in reaching an effective solution."
As shown by a recent Emulex survey of network and security operations professionals, IT teams struggle to identify the root cause of issues, with the primary difficulty being a lack of accurate and timely data to drive issue identification and resolution.
"Offering a solution that saves our customers time and money by providing the factual evidence needed to identify a problem's possible sources and offering meaningful and supportable actions to either correct it or at least isolate its root cause to a specific component is extremely valuable," said Scott Miller, director and datacenter practice lead, WWT. "NetPod delivers the full breadth of visibility for fault domain isolation across multiple data center tiers, infrastructure components, web and non-web applications."
NetPod combines several critical technologies to simplify and automate application transaction analysis:

Continuous assessment of user experience and business impact of performance and availability issues;
Real-time packet capture (with no packet loss) and nanosecond-scale time stamping to ensure that all of the required data is available for analysis;
Deep storage of captured packets, enabling "back-in-time" playback analysis when intermittent issues occur;
A comprehensive set of application protocol decodes, combined with application logic and user context;
Seamless compatibility with Dynatrace APM technologies as well as third-party products requiring access to packets for security, for deep transaction tracing at the code level, synthetic monitoring or mobile device monitoring.
About Dynatrace
Dynatrace is the innovator behind the new generation of Application Performance Management. Our passion: helping customers, large and small, see their applications and digital channels through the lens of end users. Over 5,800 organizations use these insights to master complexity, gain operational agility, and grow revenue by delivering amazing user experiences.
To read more about Dynatrace's leadership in the APM market, click here.
Follow Dynatrace on:

Try the free Dynatrace Performance Test here.
About Emulex
Emulex, a leader in network connectivity, monitoring and management, provides hardware and software solutions for global networks that support enterprise, cloud, government and telecommunications. Emulex's products enable unrivaled end-to-end application visibility, optimization and acceleration. The Company's I/O connectivity offerings, including its line of ultra high-performance Ethernet and Fibre Channel-based connectivity products, have been designed into server and storage solutions from leading OEMs, including Cisco, Dell, EMC, Fujitsu, Hitachi, HP, Huawei, IBM, NetApp and Oracle, and can be found in the data centers of nearly all of the Fortune 1000. Emulex's monitoring and management solutions, including its portfolio of network visibility and recording products, provide organizations with complete network performance management at speeds up to 100Gb Ethernet. Emulex is headquartered in Costa Mesa, Calif., and has offices and research facilities in North America, Asia and Europe. For more information about Emulex (NYSE:ELX) please visit http://www.Emulex.com.
Dynatrace Press Contacts:
Kayla Siefker, Senior Public Relations Manager, Dynatrace, kayla(dot)siefker(at)dynatrace(dot)com, 313-227-1402
Derek Beckwith, Warner Communications, 978-922-0818, Derek(at)warnerpr(dot)com
Emulex Press Contacts:
Katherine Lane, Senior Director, Corporate and Marketing Communications, katherine(dot)lane(at)emulex(dot)com, 714-885-3828
Jolene Peixoto, Senior Manager, Public Relations and Social Media, jolene(dot)peixoto(at)emulex(dot)com, 714-885-3858
For Sales and Marketing Information:
Dynatrace, 404 Wyman St., Suite 500, Waltham, MA 02451, 781-530-1000