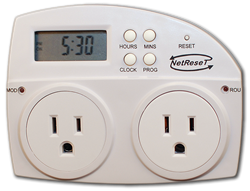 'We are extremely proud to have developed a product that will increase efficiency for all CE Professionals while simplifying technology for end users at the same time,' said NetReset LLC Chief Marketing Officer Jeremy Peace.
Lexington, KY (PRWEB) September 20, 2013
NetReset LLC Will Launch New Device at CEDIA 2013 Booth#3932; Automated Network Power Cycling. NetReset Categorized as First Network Accessory.
NetReset LLC announces participation in CEDIA 2013. NetReset LLC will launch its new device at CEDIA in Denver, CO Booth#3932. The device resolves all issues related to manually power cycling network equipment (modem and router). NetReset is Automated Network Power Cycling.
NetReset is the first product launched by the company. NetReset LLC is a division of BC Designs LLC, a custom electronic installation firm located in Lexington, KY. NetReset was designed, built, and tested in the field. The company spent two years perfecting the design and features of the device. They are now ready to release NetReset to the market.
The device sequentially power cycles the modem and router every twenty-four hours at a designated time when the network is not in use. NetReset will also restore Internet connectivity after power failures. Network Power Sequence (NPS) allows the device to accomplish these tasks. If the network is down, communication channels are hindered. NetReset keeps the network connected and eliminates troubleshooting issues related to power cycling the modem and router.
CE Professionals and distributors will drastically reduce service calls, increase customer satisfaction, and increase increase profits simultaneously. NetReset is an add-on module to all new and existing systems. The device can be installed and implemented in less than one minute.
Please find more information at http://www.netreset.com or visit us at Booth#3932 at CEDIA 2013.