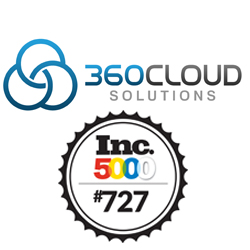 "This merger represents the evolution of two companies that have been working successfully together since 2009 to help customers improve business performance.
Scottsdale, AZ, Raleigh, NC and Salt Lake City, UT (PRWEB) July 29, 2014
360 Cloud Solutions, a NetSuite solution provider, recently announced its merger with Raleigh, NC-based Lohmueller Consulting. The merger brings together two firms with expansive, complimentary NetSuite (NYSE: N) services that will now operate under the name '360 Cloud Solutions.'
360 Cloud Solutions is a fast growing Inc. 500/5000 company that has earned two coveted NetSuite 5-Star Awards. Lohmueller Consulting has been providing NetSuite services for more than 10 years, earning numerous accolades, including a NetSuite Partner of the Year award in 2003 and most recently a NetSuite 5-Star award during SuiteWorld 2014, NetSuite's annual user conference in San Jose, CA.
"This is a transformative year for 360 Cloud Solutions," said Tom Lewis, CEO of 360 Cloud Solutions. "This merger represents the evolution of two companies that have been working successfully together since 2009 to help customers improve business performance. We combined with the Lohmueller team because they share our client-focused approach, commitment to success, and of course, the confidence in NetSuite's strong position in the marketplace."
According to Rufus Lohmueller, now President of 360 Cloud Solutions, "This was a natural next step to grow our companies. Meanwhile, the NetSuite channel ecosystem continues to provide the most stable foundation for solution providers to grow their cloud practices."
"This merger is an example of the increasing maturation of the NetSuite channel ecosystem," said Craig West, VP for Channel Sales at NetSuite. "When partners who are already successful in their own right are uniting to take it to the next level, it only shows that there is indeed a huge opportunity out there."
About 360 Cloud Solutions
A leading NetSuite partner and an Inc. 500/5000 business, 360 Cloud Solutions helps companies adopt, embrace and profit from cloud-based business solution. With offices in Scottsdale, Salt Lake and Raleigh, the 360 team provides a full suite of services, including business process documentation, implementation, configuration, customization, integration and custom application development to businesses across North America. Solution partners include NetSuite, Box, Adaptive Insights, Okta, Concur, Piracle, ETW and HubSpot.
About NetSuite
NetSuite Inc. is the industry's leading provider of cloud-based financials / Enterprise Resource Planning (ERP) and omnichannel commerce software suites. In addition to financials/ERP software suites, NetSuite offers a broad suite of applications, including accounting, Customer Relationship Management (CRM), Professional Services Automation (PSA) and ecommerce that enable companies to manage most of their core business operations in its single integrated suite. NetSuite software allows businesses to automate operations, streamline processes and access real-time business information anytime, anywhere. For more information about NetSuite, please visit http://www.netsuite.com.
NOTE: NetSuite and the NetSuite logo are service marks of NetSuite Inc. Third-party trademarks mentioned are the property of their respective owners.
To see a presentation about the merge or to get more information, please click here.