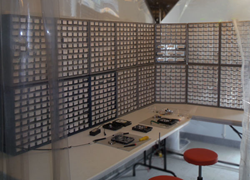 Developing custom bleeding edge tools is what DTI Data Recovery has always done.
St. Petersburg, Florida (PRWEB) October 10, 2015
With landmark hard drive recovery software like Recover It All Now and Speed Clone for Windows it is easy to see why DTI Data is counted among one of the top data recovery facilities in the industry. It is this philosophy that brings to bear one of our most powerful tool sets.
In recent years the storage device industry has gone from a single hard drive slaved to a system, to external USB enclosures that house large storage devices to multi-tiered cloud solutions that offer an offsite storage answer. In the wake of these technologies one category seemed to step above the fray and presented an inexpensive solution to a safer mass storage problem.
Network Attached Storage or NAS offers a dynamic solution to the end user that answers any and all data storage solutions. If you need local, networked, internet access to your data via PC, smart phone, tablet the NAS technology offers a simple answer to an age old problem.
With that being said, there are always situations where even the most sophisticated of devices will fail. Whether it is Synology DS series, or Seagate's NAS Pro series, or the industry touted Drobo series of NAS devices it is inevitable that sooner or later there will be a failure.
With that in mind, DTI Data over many years has developed a set of tools that address even the most complex of recovery situations for your NAS device. Since there are proprietary file systems, operating systems, RAID technologies that must be addressed it is important that the software and hardware tools used for recovery are the most up to date and reliable. DTI Data has its own research staff that is constantly updating and tweaking their data recovery toolset to ensure that any NAS technology can be addressed in a clear, concise, and expeditious manner.
DTI Data in its many years of service continues to offer the finest facility for recovery in the industry. If you have a NAS device that is experiencing problems contact DTI Data for a free diagnostic and quote.