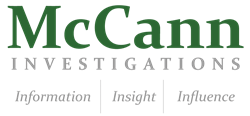 When hackers attack networks, they could cause some major damage to a business's operations.
Dallas, TX (PRWEB) September 14, 2013
McCann Investigations, a digital security and private investigations firm operating in the Dallas area, recently announced that it provides network forensics services to businesses throughout the region.
Network forensics is a specific category within the field of digital forensics that focuses on analyzing traffic and information that passes through computer networks. The information gathered in this process can be used to either detect network intrusions and vulnerabilities or to collect legal evidence to be used in the court of law. Businesses that seek network forensics services are generally interested in using them as a preventive measure to guard against potential attacks.
"When hackers attack networks, they could cause some major damage to a business's operations," said Daniel Weiss, Managing Partner at McCann Investigations. "Our Dallas-based network specialists work to protect businesses against the effects that a major network attack can have."
McCann's network specialists are highly trained in a variety of areas of digital forensics, giving them a broad understanding of what must be done to protect against attacks. They all have significant practical experience in the field and access to resources that make it easier to bolster their clients' network defenses.
The Dallas network specialists at McCann also are well-versed in the legalities of collecting evidence through network forensics. They must follow certain rigorous guidelines to ensure that any evidence collected is admissible for use in court.
"Network protection is an absolute must for any business," said Weiss. "It is important to do everything you can to protect the information of your businesses and its employees. Our network specialists keep all of our clients safe from network attacks."
For more information about the services provided by McCann Investigations in the Dallas area, visit the company's website at http://www.mccanninvestigations.com and follow the company on Twitter at @mccangi.
About McCann Investigations
McCann Investigations is a Texas-based private investigations practice focused on comprehensive investigations incorporating digital forensics, surveillance, undercover work and background checks for clients in various case types. Service areas include intellectual property theft, non-compete enforcement, fraud, embezzlement and family law. McCann Investigators are experts in the latest computer forensics tools and are licensed with the state of Texas. McCann examiners have provided expert testimony and reporting in hundreds of cases across the state.