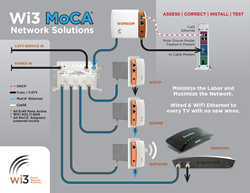 Every network is only as good as it's weakest link. Existing coax cabling combined with PCT & Wi3 MoCA signal delivery components provides solid wired, and or WiFi network connections to any TV location, thereby eliminating the weak links.
Rochester, New York (PRWEB) September 16, 2014
Wi3 MoCA® Network Solutions has joined the Home Technology Specialists of America(HTSA) to bring its award winning MoCA networking products to HTSA members nationwide. Early in 2014 Wi3 joined forces with PCT International to bring a complete line of MoCA signal delivery and bridge components to the professional installation community. MoCA, Multi Media over Coax Alliance, is an industry standard used by service providers worldwide. Wi3 provides award winning MoCA devices that provide Ethernet, hard wired & WiFi, anywhere in the home using existing coax cables. Simply, the Wi3 MoCA bridge places the Ethernet signal onto the existing coax via a hard wired connection from the family Modem - Router. No CATV services are affected, and full strength Ethernet is available at any CATV location. This is ideal for expanding your network for AppleTV®, Netflix®, Smart TV, TiVo®, Gaming or any number of bandwidth hungry consumer electronics. "The HTSA group represents the best in class, and is well equipped to handle one of the greatest challenges from a technology standpoint in the home, the existing network," says Bill Thompson CEO of Wi3 Inc. and 25 year industry veteran. "We are excited to offer HTSA members our patented MoCA bridge devices and world class network components. Top quality installs, combined with MoCA performance, will stand alone in the market place." Thompson added.
"HTSA leads the way with innovative technologies, and Wi3 MoCA Network Solutions is a great example of that philosophy" according to Bob Hana Managing Director of HTSA. "It only makes sense, the more devices, the more users, and the higher bandwidth requirements in the home demand constant attention, and Wi3 products will be an important new tool for HTSA members."
Professional installers servicing residential homes, hotels & motels, resorts, condo's, and apartments can all take advantage of MoCA technology, visit the HTSA website to find a professional installer near you.