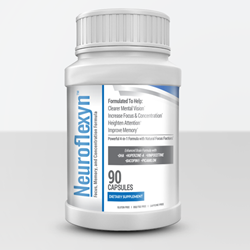 Neuroflexyn, a smart supplement product, has quickly become one of the most popular nootropic-based products in the United States.
Los Angeles, CA (PRWEB) February 09, 2015
Neuroflexyn, a smart supplement product, has quickly become one of the most popular nootropic-based products in the United States. However, customers in certain other countries, such as Australia, have had difficulty importing this highly-effective specialized formula. Now, for these customers, this is no longer the case. Neuroflexyn has been made available for sale directly to Australian customers.
Neuroflexyn is produced in the United States at an FDA (Food and Drug Administration) licensed and certified cGMP (current Good Manufacturing Process) facility. The same expertly created cognitive-enhancing supplement that is offered to consumers within the United States is now available for sale directly to Australian customers. Australian customers will be able to purchase it directly from the Neuroflexyn website. Other purchase options may be available for Australian customer over time.
The availability of the Neuroflexyn brand to an Australian customer base is a significant step forward for the brand and nootropics as a whole. It signifies that these smart supplements are beginning to get attention they deserve throughout the world. Nootropics are a type of cognitive enhancement substance that have been utilized by some for decades, but only in recent years have nootropics become well known to the average health-conscious individual.
As of 2013, there are over 23 million residents of Australia. Many of these people are working full-time jobs, playing sports, attending school or doing some combination of these activities. This is a large population of people who are looking for a way to accomplish more on a day to day basis. Neuroflexyn, harnessing the power of nootropics, is one of the best ways for people from all over the world to do just this.
Neuroflexyn helps conquer distraction, improves focus, and stabilizes moods among offering other important results. However, it does not do this with caffeine, so there is no jittery feeling or "crash" afterward. Neuroflexyn is one of the top blends of nootropics on the market anywhere in the world. This natural product is proven to help improve productivity and results at work and play.
Neuroflexyn is not an ordinary supplement. It contains ingredients that have been proven to enhance your short-term clarity and focus, as well as long-term brain health and performance. The ingredients in Neuroflexyn increase your brain's natural production of acetylcholine to enhance neurotransmitter function.
While other "nootropic" smart supplements have been available in Australia, they are not as open as Neuroflexyn about sharing the included ingredients. Neuroflexyn's blend has always included ingredients with a proven record of success. The Neuroflexyn team is dedicated to researching the ingredients to assure the best results of the product today and well into the future.
###
More information about nootropics and the Neuroflexyn smart supplement is available at http://www.neuroflexyn.com and Amazon as well as at Neuroflexyn's social media profiles on Facebook and Twitter.