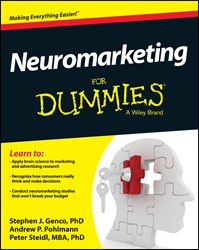 Hoboken, NJ (PRWEB) September 23, 2013
Interest in how processes in the brain influence our decisions continues to build momentum. Economics has expanded into neuroeconomics at universities across the country and neuromarketing degree programs are becoming increasingly prevalent. With neuromarketing, researchers study consumers' cognitive responses to advertising and media, looking for the answer to the age-old question: what makes consumers buy? Advertising Research Foundation (ARF) findings show that neuromarketing has advantages over other marketing methods in measuring the emotional response, intensity, and engagement levels of consumers. However, not every business has the resources or time to undertake this crucial research into the buying ideology of their consumers.
For small and large business owners, marketers, and advertisers, as well as neuromarketing students looking for a clear introduction, Neuromarketing For Dummies® (Wiley, 978-1-118-51858-8, August 2013) covers the latest insights into this fascinating and budding field. Authors and industry insiders Stephen Genco, PhD, Andrew Pohlmann, and Peter Steidl, MBA, PhD, explain how:

Consumers buy most things "intuitively", with little conscious deliberation or thought.
Being exposed to well-known brands can change behavior without consumers realizing it.
Nonconscious "priming" influences what people think about and when they think about it.
People regularly mistake familiarity for liking.
TV advertising may work best when there's less attention paid to it, not more.
Consumers have built-in resistance to the persuasive arguments often found in advertising.
The book also addresses such topics as:

How our brains really operate when we see an ad, walk into a store, go shopping online, or spot a product placement in a movie.
The basics of neuromarketing theory and what business owners, marketers, and advertisers can learn from it: advertising effectiveness research, effectiveness of in-store shopping environments on product selection and discovery, and more.
How to apply neuromarketing strategies to any level of advertising or media, on any budget.
Practical techniques to help customers develop bonds with products and services.
The ethics of neuromarketing.
Neuromarketing For Dummies is a fascinating read for anyone interested in understanding how marketers are using leading-edge science -- including neuroscience, psychology and behavioral economics -- to understand, predict, and ultimately influence consumers.
About the Authors:
Stephen J. Genco, PhD, is a founder of the modern neuromarketing revolution. Andrew P. Pohlmann led the development of the world's first global neuromarketing consultancy. Peter Steidl, MBA, PhD, has carried out neuromarketing assignments with a number of Fortune Global 100 corporations.
About Dummies
After 20 years, more than 250 million copies printed, and millions of e-books downloaded, For Dummies is the world's bestselling reference series, well known for enriching people's lives by making knowledge accessible in a fun and easy way. Loyal customers around the globe agree that For Dummies is "more than a publishing phenomenon … [it is] a sign of the times," [The New York Times]. With more than 1,800 active topics covering everything from health to history, music to math, sports to self-help, technology to travel, For Dummies is dedicated to Making Everything Easier. The For Dummies brand presence continues to expand wherever there is a need to know, including, mobile apps, e-learning courses, a corporate custom publishing program, a robust consumer website and a licensed product line that includes consumer electronics, culinary, crafts, video, software, musical instrument packs, home improvement, automotive, game and more. For more information, visit Dummies.com. For Dummies is a branded imprint of Wiley.