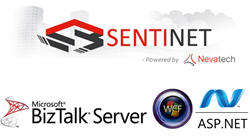 (PRWEB) February 06, 2014
Today, Nevatech, a Microsoft Gold Certified ISV Partner, announces the release of the latest version of its flagship product, Sentinet 3.5 and adds advanced integration with Microsoft BizTalk ESB Toolkit. Sentinet is a fully-featured design-time governance and run-time management middleware platform that helps organizations manage SOA services and REST APIs on-premises, in the cloud or in hybrid environments.
"We are excited to announce Sentinet 3.5 and its new capabilities that extend Microsoft BizTalk Server ESB architectures with SOA Governance," says Andrew Slivker, CTO of Nevatech. "As a long-time strategic Microsoft partner, Nevatech values the ability to share Sentinet 3.5, and its advanced Application Services Governance and management capabilities with the Microsoft community."
"Application Services Governance is your insurance policy to get the value out of your services/APIs", writes Paolo Malinverno, Gartner Research VP in his July 2013 presentation, Application Services Governance — Manage APIs, Services and Business Growth. Sentinet 3.5 provides organizations with SOA Governance integrated with Microsoft technologies.
Sentinet 3.5 release now includes free Sentinet BizTalk Server Extensions that enhance capabilities of the Microsoft BizTalk ESB Toolkit to build connected service-oriented applications that incorporate itinerary-based service invocation and integration with SOA governance solutions.
Sentinet is platform neutral and can support any SOAP and REST stack. It is especially designed to take advantage of core Microsoft technologies -- .NET, Windows Communication Foundation (WCF), Windows Identity Foundation (WIF), Windows Azure and BizTalk Server -- so as to provide the management, security and application visibility that large enterprise systems require.
Sentinet 3.5 is available immediately. Nevatech and its global partners offer a free assessment to help companies measure the benefits of their SOA architectures and RESTful API implementations management. For more information on the Sentinet service virtualization platform, its advanced SOA and API Management capabilities and a free assessment, visit http://www.nevatech.com.
About Sentinet
Nevatech Sentinet™ is a flexible, lightweight and scalable service virtualization platform with advanced SOA and API Management capabilities. Sentinet is designed to connect, mediate, secure and manage interactions between services across the enterprise or in the cloud.
About Nevatech
Nevatech, a Microsoft Gold Certified ISV Partner, is an innovative provider of SOA and API Management infrastructure and tools for integrated on-premises, cloud and hybrid environments. Fortune 1000 companies use Nevatech products to ensure their services and applications are connected, secured and monitored. The Nevatech Sentinet platform provides organizations and development teams with reliable, secure and agile SOA and API solutions.