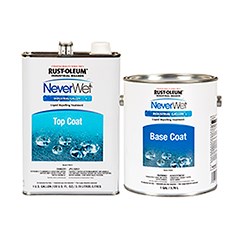 NeverWet Industrial Gallons is a superhydrophobic treatment that dramatically repels water, mud, ice and other liquids.
Issaquah, WA (PRWEB) February 17, 2014
TheHardwareCity.com, always on the lookout for quality products to support its customer's projects, is pleased to announce the addition of Rust-Oleum's NeverWet Industrial Gallons to its inventory. This version is even more durable than Rust-Oleum's NeverWet aerosol. Designed as a super hydrophobic treatment that repels liquids like water, ice and mud on surfaces, this VOC compliant product is perfect for mixing/blending equipment, concrete, conveyors, awnings, rooftops and more. It works best on surfaces comprised of wood, metal, masonry or concrete.
Rust-Oleum has been coming up with quality solutions to everyday problems since 1921. NeverWet Industrial Gallons is part of a new line of water repelling products that almost "magically" resist any kind of liquid, keeping surfaces clean and dry.
For optimal results, the area to be treated needs to be free of dirt and debris. Avoid overspray by covering and masking off the treatment area. The base coat of NeverWet Industrial Gallons 2-part treatment is then applied using an air-atomized sprayer. Wait approximately 45 minutes before applying the topcoat; it will dry to a flat, milky haze. The product will begin repelling liquid only 30 minutes after application of the topcoat; however, best results are obtained by waiting at least 12 hours before subjecting the treated area to liquids. It is available in both the base coat and the topcoat or in a kit containing the two products.
NeverWet Industrial Gallons joins a long list of quality products offered by TheHardwareCity.com -- whose primary goal is to provide superior support and service to its customers. If a customer should need help or require assistance with a particular product, then online and phone support is available. As a side benefit, reasonable prices without sacrificing quality make finding the right products easier on the wallet. Orders are quickly processed and shipped, so customers can get projects completed.
About TheHardwareCity.com
TheHardwareCity.com has established itself as an online leader in the home improvement business by providing not only high quality tools and products since 2007, but also by caring about its customers. It believes in offering the latest in technology combined with reasonable cost. Home improvement enthusiasts or professionals will find the plumbing, electrical, heating and cooling, building supplies and other products they need at http://www.TheHardwareCity.com or by calling toll-free: 1-888-252-4252.