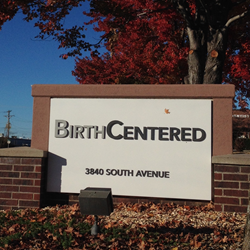 Our goal is to bring a collaborative, natural and safe option to families in the Springfield area.
SPRINGFIELD, Mo (PRWEB) January 12, 2016
BirthCentered, a new Missouri licensed birth center, announces that its facility is now open and accepting clients from Springfield and the surrounding area.
Recently, BirthCentered became the first birth center in Springfield to be licensed through the Missouri Department of Health. The center is also in the process of achieving national accreditation through the Commission for the Accreditation of Birth Centers (CABC). This new health care facility is led by a team of midwives and registered nurses and offers a more natural, holistic approach to women's health care, pregnancy and birth.
"At its core, midwifery care is centered on trusting the natural instincts of the mother throughout pregnancy and birth," says Sarah Barkley, owner and administrative director of BirthCentered. "Our goal is to bring a collaborative, natural and safe option to families in the Springfield area."
With 18 years of experience, Lori Link, a Certified Nurse Midwife (CNM), will be serving as BirthCentered's Clinical Director. In addition, Dr. Everett Beguin, who has a long history of supporting midwives, will serve as the center's Collaborating Obstetrician. The birth center offers a full scope of women's health care services including: family planning, annual exams, prenatal care, birth and delivery, postpartum recovery, breastfeeding and baby care.
The center plans to invite the Springfield community to see its facility first hand on February 27. Details for the grand opening will be posted to facebook.com/BirthCentered. For more information, visit birthcentered.com or call 417-616-3114.
About BirthCentered:
BirthCentered is a health care facility in Springfield, Missouri, that serves low-risk women and their families with personalized holistic midwifery care. Centered on mother, baby and family, the company's Certified Nurse Midwives and Registered Nurses work to inspire confidence in every woman, encouraging individual choices through nurturing support.
###