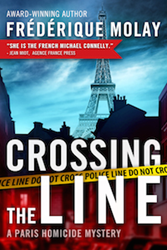 An incredible and fascinating mix of mystery and love carried too far.
New York, NY (PRWEB) September 23, 2014
International mystery fans will be happy to hear about mystery and thriller publisher Le French Book's new book release: another Paris police procedural by award-winning author Frédérique Molay. She's been called "the French Michael Connelly," and this second in the series, Crossing the Line, confirms her talent in portraying France's elite detectives solving crimes in the French capital.
Crossing the Line has been called "highly entertaining" (Thinking about Books), a "fresh take" (Booklist) and "just the ticket" (Publishers Weekly).
Just how far would you go for your loved ones?
It's Christmas in Paris and Chief of Police Nico Sirsky is back, in love and rearing to go, when he's handed an odd case. Med school students sometimes play inappropriate pranks, but when a note shows up hidden in the tooth of a severed head, nobody's laughing, and it's Police Chief Nico Sirsky's job to find out if something more sinister is afoot. He and his team of crack homicide detectives follow the clues from an apparent suicide, to an apparent accident, to an all-out murder as an intricate machination starts breaking down. Just how far can despair push a man? How clear is the line between good and evil?
Praise for Frédérique Molay
"Well-drawn characters." – Paris mystery writer Cara Black
"Frédérique Molay is the French Michael Connelly." –Jean Miot, Agence France Press
"Chief Nico Sirsky is every bit as engaging and dogged as Arkady Renko in Gorky Park."–New York Times bestselling author Robert Dugoni
"Author Frédérique Molay does a superb job of building the suspense in overt and subtle ways." – CriminalElement.com
Read an excerpt
http://www.lefrenchbook.com/start-reading-crossing-line/
Find in a local bookstore
http://www.indiebound.org/book/9781939474148
Crossing the Line: A Paris Homicide Mystery
by Frédérique Molay; translated by Anne Trager —published by Le French Book — ISBN: 9781939474148 (trade paperback)/ 9781939474155 (e-book)/ 9781939474162 (hardback)— First published in French (Dent pour dent, Librairie Arthème Fayard, Paris) — Print release: September 23, 2014
About Le French Book
Le French Book (http://www.lefrenchbook.com) is a New York-based publisher dedicated to bringing France's best crime fiction, thrillers, novels, short stories, and non-fiction to new readers across the English-speaking world. Its motto is: "If we love it, we'll translate it."
©2014 Le French Book, Inc. All rights reserved. Information is subject to change without notice.