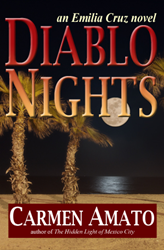 'Diablo Nights' is the third installment in the Emilia Cruz mystery series set in Acapulco.
Rome, NY (PRWEB) July 16, 2014
Carmen Amato, author of the explosive Emilia Cruz mystery series, is pleased to announce a new book release. "Diablo Nights" is the third installment in the Emilia Cruz mystery series set in Acapulco.
In "Diablo Nights," the deadly combination of a religious relic and a cruise ship murder victim propel Emilia Cruz, Acapulco's first female police detective, into a maze of cartel smuggling and revenge killings. The relic, from Mexico's 1920's Cristero War, initially points toward a gruesome kidnapping case while the cruise ship body is laced with Ora Ciega, a rare heroin strain from Colombia. These developments lead Emilia and her police detective colleagues to anticipate more drug war violence for Acapulco's already bloody streets. Yet Emilia is pulled away from the investigations to train a rookie detective with friends in high places.
"It takes a thief to catch a thief," is an offhand comment Emilia makes at the beginning of the novel. But as the destinies of Ora Ciega, the rookie, and a dark secret from Emilia's past converge into a shocking climax, the truth behind her words becomes only too apparent.
The Emilia Cruz police procedural series ranks in the international mystery genre and is similar to series by Jo Nesbo, Ian Rankin, and Martin Cruz Smith. The previous two Emilia Cruz mystery novels, "Cliff Diver" and "Hat Dance" are among the top rated books in both the Hispanic fiction and international mystery genres.
In addition to the police procedural novels, an Emilia Cruz story, "The Beast," was featured on the Huffington Post's Fiction 50 showcase last year, and two Emilia Cruz stories are available on free-ebooks.net.
"Diablo Nights" is currently available in Kindle format. The paperback edition will be released in August 2014.
For interviews or to request an ARC, please contact the author at Carmen(at)carmenamato(dot)net. To learn more about Carmen Amato and the newest Emilia Cruz novel, please visit either the Amazon book page or the author website.
About Carmen Amato:
In addition to political thriller The Hidden Light of Mexico City, Carmen Amato is the author of the Emilia Cruz mystery series set in Acapulco, including Cliff Diver, Hat Dance and the collection of short stories Made in Acapulco. Originally from New York, Carmen's experiences living in Mexico and Central America drive the authenticity and drama of her thriller and mystery novels. Her Emilia Cruz series pits the first and only female detective on the Acapulco police force against Mexico's drug war and culture of machismo. For more information, please visit http://carmenamato.net/.