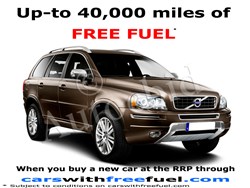 It's now cheaper to buy a petrol instead of a diesel car if you do average miles, or get a new car with free fuel from carswithfreefuel.com.
(PRWEB UK) 9 August 2013
Colossal mileage, of course, is always best left to torque-rich fuel-sipping diesel engines, but apart from those scenarios you'd be mad not to consider petrol when looking at the best new car deals.
The first point to consider is the cost of the new car. Manufacturers continue to charge premiums totalling thousands of pounds for diesel-engined cars over their petrol-powered counterparts, chiefly because buyers continue to pay up. This is a false economy, if you pay for your own fuel, with the buyer soften having to chalk up over 30,000 miles before any financial benefits of increased fuel consumption are realised. In any case, petrol engines are no longer vastly less efficient than diesels.
Diesel cars also pay three percent more benefit in kind tax that petrol cars. The reasoning is a little outdated now, as diesels emit far lease harmful emissions than they did when the tax was initiated, but unsurprisingly nothing has changed.
Below are just a few examples of the petrol and diesel versions of the same car. Performance for both models is similar, and in every case the petrol-engined car is cheaper for a company car driver.

Petrol: 1.2 TSI SE 5d
P11d value: £15,615
CO2 emissions: 114g/km
Benefit in Kind: 14%
Monthly tax bill @ 20%: £36
Diesel: 2.0 TDI SE 5d
P11d value: £19,785
CO2 emissions: 106g/km
Benefit in Kind: 16%
Monthly tax bill @ 20%: £53
Example: Skoda Octavia Estate
Petrol: 1.2 TSI S 5d
P11d value: £16,735
CO2 emissions: 117g/km
Benefit in Kind: 15%
Monthly tax bill @ 20%: £42
Diesel: 2.0 TDI CR SE 5d
P11d value: £20,885
CO2 emissions: 110g/km
Benefit in Kind: 17%
Monthly tax bill @ 20%: £59
Example: Mercedes C-Class Coupé
Petrol: C180 AMG Sport
P11d value: £31,565
CO2 emissions: 149g/km
Benefit in Kind: 21%
Monthly tax bill @ 20%: £110
Diesel: C220 CDI AMG Sport
P11d value: £33,075
CO2 emissions: 133g/km
Benefit in Kind: 21%
Monthly tax bill @ 20%: £116