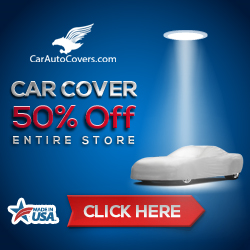 We now have car covers available for all new domestic cars and trucks available for sale in the United States of America.
Los Angeles, California (PRWEB) August 10, 2015
CarAutoCovers.com, a reputable new car covers manufacturer for over ten years, has recently released a list of car covers for 2016 new cars and trucks they will have available upon request. CarAutoCovers.com specializes in domestic model car and truck covers and proudly state that their car and truck covers are made in the USA. The employees at CarAutoCovers.com strive to provide the vehicle protection available at the best prices. Their employees are experts at helping customers find the cover for their vehicle. Their Price Match Guarantee and Easy Return policies are some of the best in the automotive industry.
Here is the list of car covers for 2016 new cars and trucks CarAutoCovers.com has available:
2016 Buick Cascada
This beautiful silver drop-top 2 + 2 convertible will definitely turn heads. Classy lines and a solid compact shape makes this model vehicle a must have. It was featured as the first drop-top in the US division in half a century at the 2015 Detroit Auto Show.
2016 Cadillac ATS-V
The Cadillac V series offers enhanced engine power and torque. The Cadillac ATS-V is the first of the V series to have a 3.6 liter V6 turbocharged engine that is compatible with the BMV M3/M4 which draws power from a 3.0 liter inline-6 engine. This car was first introduced at the Los Angeles Auto Show.
2016 Cadillac CT6
Cadillac introduces an innovative luxurious aluminum based car in its CT series that mixes technology and environmentally friendly features. The CT6 features torsion rigidity and noise isolation. Cadillac introduced this car at the 2015 New York Auto Show as their flagship 4-door luxury car.
2016 Cadillac CTS-V
As part of the Cadillac V series, the Cadillac CTS-V features a new 6.2 liter supercharged V8 engine that performs better than the Audi S6. Newly redesigned with speed and performance in mind, the Cadillac CTS-V outperforms the best in the class of super sedans. Cadillac introduced this car at the 2015 Detroit Auto Show.
2016 Chevrolet Cruze
Curb appeal is what this midsize car is designed to achieve. Sleek functionality and durability set this car apart from other midsize cars. Their ecologically designed engines are more fuel efficient than other midsize cars in its class.
2016 Chevrolet Malibu
Chevy Malibu has been around for a long time. The 2016 Chevy Malibu corrects the mistakes the former year model had and makes the interior roomier. The signature muscle car performs well and is compatible with other midsize sedans.
2016 Chevrolet Spark
Chevy's answer to the mini car is the Spark. With its innovative design and new ecologically efficient drive train, the 2016 Chevrolet Spark is perfect for the budget and ecologically conscious consumer.
2016 Chevrolet Volt
All electric cars are all the rage now. The 2016 Chevrolet Volt is no exception. It is geared to become America's best selling electric car on the market today. Its sleek design and enhanced performance makes the 2016 Chevy Volt one of the best electric cars on the market.
2016 Ford Shelby GT350 Mustang
The Ford Mustang is a well known performance car. In this new version, Ford matches the performance potential of its processor by introducing a 500+ horsepower V8 engine and a precision tuned chassis. It also uses continuously controlled magneto-rheological MagneRide dampers to smooth out the ride. This car is designed to go fast.
2016 Lincoln MKX
The Lincoln MKX is designed as an upscale midsize crossover with 22 way power seats and massage functions. The crossover design allows the car to be sold worldwide. MKX features a push button gear selector that helps smooth the ride. The Lincoln, known for its luxury, also has an available embedded modem that connects with the vehicle's operating system. Lincolns' high performance engine compares favorably with the 2015 Ford Fusion and Edge.
CarAutoCovers.com offers a wide variety of car covers for 2016 new cars and trucks. Most of the American made covers for 2016 new cars and truck covers for 2016 new trucks are backed by CarAutoCovers.com Money Back Guarantee. CarAutoCovers.com also offers the "Sure Fit" guarantee that ensures that the car or truck cover will fit the make and model of the car or truck.
To learn more, please visit CarAutoCover.com or call them at 1-800-288-5844. Knowledgeable experts are available through live chat lines 24/7 or via e-mail at info(at)CarAutoCovers(dot)com.