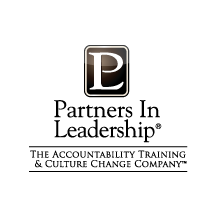 Our brand in both the culture change space, as well as in Accountability Training continues to grow and be distinguished from our competitors.
Temecula, CA (PRWEB) November 24, 2015
Partners In Leadership (PIL) announced that Gordon Treadway will be appointed as the company's president and CEO, effective January 1, 2016. Roger Connors, PIL co-founder and current CEO, will continue to serve on the company's board of directors along with fellow co-founder Tom Smith (currently on sabbatical). Roger and Tom will provide on-going strategic support for PIL and continued thought leadership in the areas of Culture Change and Accountability Training.
"Gordon has been a trusted and indispensable member of Partners In Leadership since he has joined us, and we know that our company will have a bright future with him at the helm," said Roger Connors. "His leadership, experience, and familiarity with our key client industries will prove to be a significant asset for achieving substantial growth in the years ahead."
Treadway first joined PIL as regional vice president (RVP) in 2012 after a long and successful career in the pharmaceutical industry. As RVP, Treadway established invaluable partnerships with dozens of PIL clients, including several Fortune 100 companies. In 2013, Treadway was appointed president of the company and has since held that position, contributing to the company's record growth.
The move, in part, was precipitated by the recapitalization of PIL by Hammond, Kennedy, Whitney & Company, Inc. (HKW) in September 2015. The partnership between PIL and HKW will continue to fuel the accelerated growth and success that PIL has experienced over the years, acknowledged recently by the company's second year in a row on Inc. Magazine's list of fastest growing privately held companies.
"It's been an incredible journey for me, personally and professionally, since I joined PIL, and I am honored to step into this new role and help continue the tradition of growth Roger and Tom established 27 years ago. These are incredibly large shoes to try to fill." Treadway said. "The revolutionary thought leadership they have brought to our field, along with our new partnership with HKW, has set the stage for exciting things to come. Our brand in both the culture change space, as well as in Accountability Training continues to grow and be distinguished from our competitors. We expect continued strong growth in multiple industries, including hospitals, healthcare, consumer and industrial products, and energy. "
Visit the Partners In Leadership website to learn more.
About Partners In Leadership
Partners In Leadership® (PIL) is the world's premier provider of Accountability Training® and Culture Change Training and Consulting Services. PIL has enabled thousands of companies and millions of people in more than 100 countries worldwide to achieve dramatic results: billions of dollars in improved shareholder wealth and hundreds of thousands of jobs saved—resulting in some of the highest praised and best places to work in the world.
For further information on Partners In Leadership, visit http://www.partnersinleadership.com or call 800-504- 6070. For press inquiries, contact Michael Marti at michael.marti(at)ozprinciple.com or 951.294.9010 x195.
Partners In Leadership and Accountability Training are registered trademarks of Partners In Leadership. All other registered trademarks and trademarks used herein are the property of their respective owners.