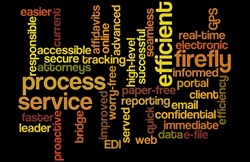 Firefly Legal is an innovator that has led technological advancements in the process service industry. The new barcode feature is yet another way Firefly provides clients a seamless, full-service experience.
Chicago, IL (PRWEB) February 06, 2014
Process service leader Firefly Legal today announced a major update to its document generation program. Now, all service related documents include a barcode that allows seamless electronic upload for a more efficient client experience.
The new feature tags all service related documents with a barcode, page numbers and detailed information about the file, including file number, reference number, case number and timestamp. The new coded documents can now be automatically uploaded to the correct spot within StatusPro, Firefly Legal's industry-leading proprietary case management system. The bar codes will also automatically transfer data into Firefly's document system—eliminating manual entry and assuring accuracy.
Firefly plans to support the new automation with its quality control department that will continue to monitor client files for accuracy and with audits of files before they are returned to clients.
"Many of Firefly's clients are under deadlines and must comply with dates set by the courts. They require service to be effectuated within a limited time frame," said Matt Massa, Vice President of Firefly Legal. "Our new document barcode feature benefits clients by making our own processes more efficient. When we're more efficient, we're able to sort through civil process service orders faster in the office—reducing the time necessary to complete the service."
Firefly Legal is an innovator that has led technological advancements and improvements in the process service industry. The new barcode document upload feature is yet another way Firefly has leveraged technology to provide a seamless, informed, full-service client experience. To see other recent ways Firefly is harnessing technology to work smarter for clients, see 'Seven Ways Firefly Legal Uses Technology to Innovate in Process Serving.'
Similar to the new barcodes, Firefly was the first major process server to modify its processes through technology to require only two copies of complaints when filing new cases with the court (one for Firefly and one for the court). Firefly also created a batch printing process that replicated and provided files for the precise number of defendants—an improvement that drastically reduced the amount of paper clients produced, thus saving clients time and money.
To learn more about Firefly Legal, check out fireflylegal.com and stay in the loop by joining their online communities on Facebook and Twitter.
About Firefly Legal:
Headquartered in Mokena, Illinois, Firefly Legal is a national associate legal services company specializing in process serving, skip traces, court filing, document retrieval, and loss mitigation. Be sure to check out Fireflylegal.com for more information.