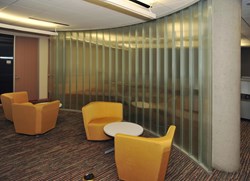 New York, NY (PRWEB) September 23, 2013
The Department of Computer Science at the University of Texas at Austin recently unveiled its new home, the Bill & Melinda Gates Computer Science Complex and Dell Computer Science Hall (GDC), featuring coordinated Bendheim channel glass and decorative architectural glass.
Pelli Clarke Pelli Architects of Connecticut selected Bendheim Wall Systems' tempered Piccolo® textured channel glass, produced by Lamberts. The fine, corduroy-like Piccolo® pattern defines the floor-to-ceiling, straight, and curved partitions in the open-plan and private offices, distributing light within the spaces while providing the necessary privacy. The multi-faceted texture of the glass creates a lively "motion" as one walks past, adding to the overall design interest of the interiors.
Continuing the design aesthetic while providing similar daylighting and privacy benefits, the architects selected Bendheim's matching Clear Corduroy architectural glass for the faculty offices' sliding walls and partitions.
Bendheim's team brings years of glass experience to architects and designers, assisting them throughout the design process, from concept to completion. Bendheim's tempered channel glass is certified by the Safety Glazing Certification Council (SGCC), and is available with a certified 100% heat soak test. Bendheim's vertically integrated Architectural Glass division offers specialized fabrication services, unlimited custom-designed solutions, as well as more than 2,000 stock decorative glass varieties, virtually all of which are available as safety glasses.
For more information about Bendheim Wall Systems' Lamberts channel glass, call 1-800-221-7379 or visit http://www.bendheimwall.com. For information on Bendheim's decorative architectural glass, call 1-800-221-7379 or visit http://www.bendheimarchitectural.com.