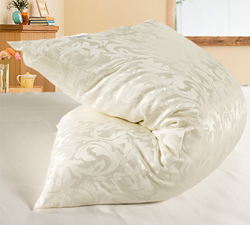 Sleeping with soft and smooth silk pillows is really a wonderful thing.
Midland, TX (PRWEB) March 07, 2014
Lilysilk is a reliable and customer-oriented bedding product store. Recently, the company has introduced its mulberry silk pillows for customers for 2014. Made from 100% pure mulberry silk floss, their silk pillows are of high-quality and offered at affordable prices.
The website of Lilysilk.com is clearly set out and provides a big range of products. It is fun to browse such a practical website and there are many exciting choices. There are three styles of silk pillows at Lilysilk.com, namely, silk fitted pillows, silk pillows with silk shells, and silk pillows with jacquard silk shells. All these pillows come with these several characteristics: 100% pure silk floss, fine tailoring, meticulous production and gorgeous looks. Mike Lee, CEO of Lilysilk company, says that their silk pillows will make women's hair smoother and enchanting.
"It is important to update our product line, and design more new styles of silk pillows for our clients. We promise that all our silk pillows are made from 100% pure mulberry silk floss, and I can say most customers will love them," stated Mike Lee. "What's more, sleeping with soft and smooth silk pillows is really a wonderful thing."
In addition, Lilysilk is offering different styles of silk pillowcases on the website, including 19 momme silk pillowcases, 22mm and 25mm silk pillowcases in oxford or terse style. All the pillowcases are well designed with gorgeous looks. Customers could feel confident to purchase at Lilysilk.com, because the company provides money-back return policy which allows goods to be shipped back only if they are not washed or used, and in their original packages.
The reason to choose Lilysilk is very simple: Lilysilk offers high quality products at competitive and affordable prices, all their products are free shipping. For more information, please visit: http://www.lilysilk.com/ or its Facebook page: https://www.facebook.com/LuxurySilk