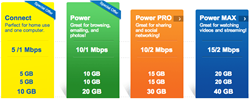 Satellite WISP.com now offers New Hampshire residents the option to purchase a high speed Internet and unlimited phone calling service bundle saving 25% to 35% on their phone and Internet bill.
New Hampshire (PRWEB) September 30, 2013
A satellite dish at home used to be just for watching TV, but with the new Gen 4 satellite broadband from Satellite WISP (http://www.satellitewisp.com), customers in NH can download video at fast speeds, talk on the telephone, listen to online music, and even provide security for their home and family. This service is available in all New Hampshire counties with speeds up to 15 Mbps as well as unlimited local and long distance calling continental US and Canada.
Satellite service has evolved, allowing Satellite WISP to deliver the fastest Internet speeds available with 15Mbps and 40 GB download allowances at an affordable price. The authorized Gen 4 satellite Internet retailer can provide the service anywhere, which is good news for rural satellite Internet browsers who have grown tired of using dial-up or slow NH DSL providers, if they had any type of Internet service at all.
Benefits of New Hampshire High Speed Satellite Internet:

Download Speeds up to 15 Mbps
Upload Speeds up to 2 Mbps
Faster Than DSL and Most Cable Providers in New Hampshire
Available Almost Anywhere in New Hampshire Where Cable and DSL Are Not
Unlimited Phone Calls throughout US and Canada
Does Not Need a Phone Landline
Low Monthly Rate
And much more...
Satellite Internet plans in New Hampshire range from the fastest Power MAX package for heavy users to the Power plan for more moderate users. Even those offering 10 Mbps are still faster than the connections commonly offered by most cable companies—as much as five times faster than DSL and 500 times faster than dial-up.
"Our company is staying with the times by offering a New Hampshire satellite Broadband service that is both versatile and affordable with exceptional signal strength and high quality," says Satellite WISP owner Ron Legarski.
The New Hampshire satellite Internet provider offers plans for every household budget by having a choice of plans that best suits the household income and the residents' usage. In addition to high-speed satellite Internet, Satellite WISP also has Voice telephone service. The plan allows for unlimited monthly calls in the US and Canada with call forwarding, call waiting, caller ID and other special features. Plus, customers can keep their existing phone number when they opt for the service. Self-installation makes it quick and easy.
New Hampshire Satellite Internet service is now available in the following NH counties:
Belknap County, Carroll County, Cheshire County, Coos County, Grafton County, Hillsborough County, Merrimack County, Rockingham County, Strafford County and Sullivan County.
For more information on the coverage area for Satellite Internet, please visit: http://www.satelliteisp.me/new-hampshire.
Satellite WISP is an advanced New Hampshire high-speed satellite Internet company offering the Gen 4 system. The company has three different Internet packages, including the fastest Power MAX plan with speeds up to 15Mbps and data allowances of 40 GB. Other plans and services are available allowing the company to serve the broadest number of customers possible with all of their communications and security needs.
For more information on satellite Internet and phone service providers, please call toll free and speak with a representative today at 1-877-247-5156 or by visiting:
http://www.satelliteisp.us.com