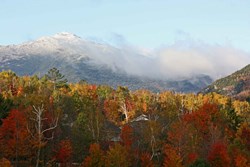 Mt. Washington Valley, New Hampshire (PRWEB) September 20, 2013
Synnott Mountain Guides, a New England climbing and mountaineering guide service, has responded to an ever-increasing demand for guiding hiking and added Mt. Washington Guided Hikes to its extensive list of climbing courses and mountaineering programs. Synnott Mountain Guides offers a variety of Mt. Washington climbs and mountaineering programs, from one-day Mt. Washington ascents to the three-day Introductory to Mountaineering Course or the much more arduous Presidential Traverse as well as technical ice climbing in Huntington Ravine and other waterfall ice areas. Mt. Washington backcountry ski programs are also offered. Requests for guided hikes on Mt. Washington and other New Hampshire mountains above 5,000 feet led Synnott Mountain Guides to adding guided hikes for all of the Presidential Peaks, coveted objectives for Appalachian Trail and New England peak baggers. Mt Washington guided hikes and climbs of other mountains in the White Mountains surrounding the Mt. Washington Valley will be available from Synnott Mount Guides 7 days per week throughout the entire fall.
The fall foliage season brings tens of thousands to New England areas such as Mt. Washington Valley, and while the fall colors may be easily viewed from a car, the trail offers an unparalleled connection to the majesty of the mountains and fall season. Synnott Mountain Guides guided Mt. Washington hikes provide a fun family outing with a sense of accomplishment. Other Presidential peaks offer equally rewarding views and accomplishment with somewhat shorter days and a less strenuous effort.
Fall is also the perfect time for rock climbing in New Hampshire. The cooler weather makes rock climbing at areas such as Cathedral Ledge, Cannon Cliff and Whitehorse Ledge even more enjoyable. Regardless of whether there is a sole individual participant or a large group, whether they are first-time climbers or experienced and already climbing at an advanced level, Synnott Mountain Guides will create the perfect climbing course. Rock climbing courses at Synnott Mountain Guides include all technical rock climbing and safety equipment.
About Synnott Mountain Guides
Synnott Mountain Guides is owned and operated by professional climber Mark Synnott. Mark has taken on adventure in places like Patagonia, Pakistan, Nepal, India, China, Tibet, the Alaska Range, the Amazon, West Africa and Pitcairn Island in the South Pacific. When not in the mountains, Mark works with The North Face research, design and development teams and he lectures frequently on his life of adventure. He's also a successful freelance photojournalist and a senior contributing editor at Climbing Magazine. His articles and photos have appeared in many publications in the U.S. and abroad, including National Geographic Adventure, Men's Journal, Outside, Skiing and New York Magazine. Mark Synnott is also the author of Baffin Island – Climbing, Trekking & Skiing, a Baffin Island guidebook illustrated with stunning photos and detailed maps. Synnott Mountain Guides includes a dozen of New England's most experienced climbing guides, many of whom have experience climbing around the world. More information about Synnott Mountain Guides, its climbing guides, Mark Synnott's climbing expeditions and the complete fall and winter 2013/2014 climbing course schedule can be found at http://www.newhampshireclimbing.com.