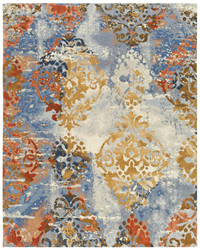 Minneapolis, Minnesota (PRWEB) November 05, 2014
As November ushers in the holiday season, it is no surprise that many brands are unveiling newly expanded inventories and new products to peak consumer interest. This week, Cyrus Artisan Rugs announced they will be steadily adding new rug designs and styles to their already impressive inventory of high-end, hand knotted rugs. There are many rare and unique additions this month, ranging from contemporary, transitional, to tribal rugs with a modern spin.
One of the standout rugs from Cyrus' new November arrivals includes the "Laila" transitional rug design. The "Laila" rug perfectly straddles the worlds of traditional rug design and modern palettes. Inspired by timeless and classic damask patterns, this refined piece was crafted using the finest Nepali mountain wool. The rug is hand knotted with a thin pile finish, and is available in four different color choices ranging from cool to warm, golden tones. Another highlight from the selection of new arrivals is the "Kuala Lumpur" design. This addition to the existing Decant Collection of hand knotted tribal rugs was expertly crafted in Nepal with meticulous care, using high mountain wool to create soft and thin pile finish. With beautiful Nepali wool and a classic phoenix weave, this rug's geometric motif and chic color palettes are the perfect accent to contemporary interiors. A stylish home decor trend of 2014 played with the juxtaposition of tribal or cultural pieces and polished, modern settings with contemporary fixtures. In regards to Cyrus' new contemporary rug designs, the "Lagos" rug is beautiful and different from the rug powerhouse's contemporary summer arrivals. The "Lagos" rug features a truly unique curvilinear pattern and modern take on classic damask motifs with original multi-colored palettes. The blend of contemporary design with artisan craftsmanship is a perfect sophisticated piece for the upcoming holidays. Hand knotted using 80% handspun mountain wool and the 20% silk, the "Lagos" contemporary rug is chic and unique, lending contemporary grandeur to the its sophisticated pattern, while the lustrous natural fibers offer beauty and resilience.
Each of these rare and unique rugs are featured on both Cyrus' online store and in their large Minneapolis showroom. Cyrus Artisan Rugs' showroom is over 13,500 square-feet with an inventory of over 3,000 handmade artisan rugs. Design lovers, industry insiders, and residents of the greater Minneapolis area should check out these truly one-of-a-kind carpets to get inspired for their own holiday decorating plans.
Cyrus Artisan Rugs
5115 American Blvd.
W. Bloomington, MN 55437
Phone: (952) 922-6000
-Contributed by TRIXMEDIA : Creating Possibilities
Branding Firm based in Beverly Hills, California.