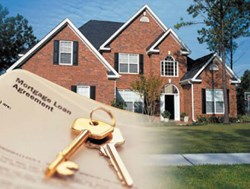 Buying your first home is an exciting and confusing time, make sure you follow these excellent tips from industry experts before signing any papers!
Baltimore, MD (PRWEB) January 14, 2014
When a person makes the decision to purchase their first home it's a time a both tremendous excitement, as well as anxiousness. Buying a home is a huge responsibility, but it's also an immense privilege, and it shouldn't be taken lightly. The team at AlarmSystemReport.com, a site that provides alarm system reviews of top names in the industry, including FrontPoint security reviews, has created a list of first time home buying tips.
1. When possible, it's best to pre-qualify before attempting to purchase, or even looking for a home. When a buyer pre-qualifies for a set amount of money, they're in a better position with both the seller and realtors, and are more likely to get the home they want at a good price.
2. The real estate agent a first time buyer chooses is pivotal to the success of the process. It may take several realtors to find a great match. Buyers should look for professionals with extensive experience in the area they're looking, and they should be able to answer a variety of questions about questions including the safety of an area, the school districts, the taxes and any other questions that may arise.
3. Before starting the search for a home, buyers should have a list of must-have items, and a list of features that would be nice, but aren't necessary. For example, a homeowner may decide having a wireless home alarm system already in place is something they're not willing to sacrifice on—this will help the realtor narrow down the housing choices more effectively.
4. Many buyers opt to score the homes they see, and keep track of these scores to help them narrow down the options and choose a final home. Buyers should make notes as they tour homes, so that they can easily refer back if they forget something about a particular home.
5. First time buyers should understand that owning a home comes with a whole set of costs aside from the mortgage. Many first time buyers make the mistake of only looking at the cost of the mortgage when they make a purchase, but it's important to consider everything, including property taxes, utility bills, homeowner's association dues and any other costs. Many times, when these items are all added up, it can be a home out of a buyer's budget that would have been affordable when just the mortgage was considered.
About AlarmSystemReport.com
AlarmSystemReport.com is a highly regarded, third-party site providing independent and unbiased information and reviews pertaining to the home security industry. Residents of states all over the country can research security and alarm systems in their area—from Oklahoma security systems to Oregon security systems. In addition to reviews and rankings, there are also valuable coupons and discount codes that consumers can access in order to use toward the cost of an alarm system.