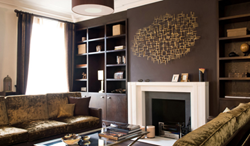 Los Angeles, California (PRWEB) July 30, 2014
The interior design and home decor blog, Decor Authority, is highly regarded for the sheer amount of quality articles it posts on a regular basis. Decor Authority stands out amidst the highly populated pool of home decor blogs, as it is consistent while offering helpful and informative posts, rather than posting lackluster articles simply to put something up. This month, the blog announced they would partner with fellow Los Angeles-based company, TRIXMEDIA, to give their entire website and brand a facelift.
TRIXMEDIA is a full-service branding company that is located in Beverly Hills. Since 2003, TRIXMEDIA has offered web design and website development, online marketing, social media management, and creative services for companies across the nation. From large corporate companies to smaller, private businesses, TRIXMEDIA has worked with clients across a variety of industries. After TRIXMEDIA revealed their new web design for their own site, Decor Authority decided to partner with the Los Angeles branding company to give their online presence and visibility a boost. The quality of the content was always present on the blog, but a modern appeal and aesthetic was missing.
As the branding consultant for Decor Authority, TRIXMEDIA has already unveiled their newly designed website. With a chic and clean color scheme, large images, and social media integration, Decor Authority's new website appearance stands out amongst the various home decor and interior design blogs. The branding company has also given Decor Authority's Facebook and Twitter accounts a fresh look, with new banners and relative content. Decor Authority is divided into five categories: interiors, decor, outdoor, home improvement, and a "how-to" section. Whether you are interested in interior design or the garden is your preference, decor authority is a unique blog in that it covers many aspects of design – not solely the home, and not solely the garden. There is also a variety of tips to save money on furnishings or organize areas of your home more effectively.
With the new web design from TRIXMEDIA, Decor Authority is certainly looking pretty with its new face.
TRIXMEDIA
468 N Camden Dr
Beverly Hills, CA 90210
Phone: (800) 717-8271