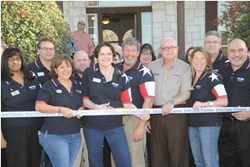 City Councilman Jim Fowler welcomes RE/MAX Corridor to Schertz.
Schertz, TX (PRWEB) January 28, 2014
With more than 80 supporters in attendance, City Councilman Jim Fowler provided an official City of Schertz Welcome to the RE/MAX Corridor office.
Schertz Chamber President Maggie Titterington brought together attendees from the local business community as well as officials from Selma, Cibolo and Universal City. The event highlighted the influence that office owners Tim and Nancy Brown have built in the real estate profession for the community. With 23 agents ready to serve sellers, buyers and investors, RE/MAX Corridor brings full-service real estate support to the area.
RE/MAX is known for the strong support it provides its agents and brokers. The RE/MAX agent tool kit includes fully searchable websites for every agent, a 24-hour online real estate university, a professional marketing and advertising design support suite, one of the most widely searched real estate sites in the world, and a name that is universally known as the standard for real estate excellence. RE/MAX agents sell more homes than any other company, have more training than any other company and have more experience than any other company.
Both Tim and Nancy Brown have been active in the real estate industry since Tim retired from the USAF with more than 27 years of service. Since 2003, they have teamed up to assist buyers, sellers, and investors with their skills, knowledge and understanding. Tim and Nancy opened RE/MAX Corridor in 2011 with eight agents and have grown to 23, and are still looking to grow more in their new location. Agents looking to increase their business and focus on the IH35 and IH10 corridors are encouraged to contact Tim or Nancy to discuss the strength of RE/MAX and all they have to offer in training and support. The new location at 17156 IH35 N in Schertz is already attracting business, and they look forward to serving the community for many years. Call 210-659-6700, or visit the website at http://www.remax-corridor-tx.com.
About the company:
Affiliation with the global RE/MAX® network provides associates with multiple competitive advantages in serving their clients' real estate needs. From national television advertising to personal advertising controlled by associates, RE/MAX® enjoys brand-name recognition worldwide. Belonging to the real estate network with the most market presence and market share, RE/MAX® associates have the most to offer. So take a step in the right direction. Contact a RE/MAX Corridor agent today.