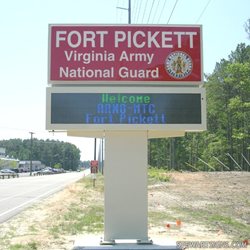 New Horizon Security is excited to be part of DMA's integrated team to protect the personnel and property needed to carry out the agency's essential homeland security missions
Manassas, VA (PRWEB) September 09, 2014
New Horizon Security Services, Inc., a privately owned certified small business headquartered in Manassas, VA, specializing in armed and unarmed security officers in the Mid-Atlantic region, has been selected by the Virginia Department of Military Affairs (DMA) to provide armed security officers at four National Guard installations.
Under this contract, which has a period of performance of one year plus four option years, New Horizon Security will perform installation access control and vehicle inspections, roving patrols and security surveillance, and support the National Guard Youth ChalleNGe Program serving at-risk youth.
"I'm honored to be DMA's choice to assist the Commonwealth's unified Force Protection Program," said John "J.J." Frazer, President of New Horizon Security. "New Horizon Security is excited to be part of DMA's integrated team to protect the personnel and property needed to carry out the agency's essential homeland security missions."
Leveraging proprietary training and technology, New Horizon Security will provide armed security officers at Fort Pickett, Nottoway County Virginia; the Army Aviation Support Facility, Henrico County Virginia; Mullins Readiness Center in Sandston Virginia and the State Military Reservation, Virginia Beach Virginia.
New Horizon Security is the largest independent, family-owned and operated security firm in the Mid-Atlantic with over 650 officers and provides more armed security officers to Virginia agencies than any other company. The company was just named to Inc. Magazine's Top 5000, a prestigious list of the nation's fastest growing firms, for the fourth consecutive year.
View our training programs: newhorizonsecurity.com/training/
Learn more about our OfficerTrax™ technology: youtube.com/watch?v=y7KNHGINXww
About New Horizon Security
New Horizon Security specializes in providing high-quality armed and unarmed security officers throughout the Mid-Atlantic region in support of local and state government agencies, private businesses, commercial and retail properties, construction sites, residential communities, education facilities, and public service buildings. New Horizon Security also operates a certified training academy to train unarmed and armed security officers for the field. This training academy is open to the public as well. New Horizon Security is headquartered in Manassas, VA with satellite branches in Richmond, Harrisonburg, Newport News, Roanoke, and Danville, VA. The company also has an office in Raleigh, NC.
Learn more at newhorizonsecurity.com.