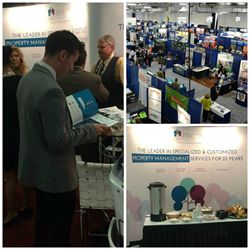 We invest in marketing because we believe that is the best way to highlight how our company offers value and service that are demonstrably superior to our competitors
New York, NY (PRWEB) May 14, 2015
The New Jersey Cooperator's Condo, HOA, Co-op & Apt. Expo., one of the most popular real estate trade shows in New Jersey, is attended by nearly 1100 board members, homeowners, property managers and apartment building owners throughout the Garden State.
For mem property management -- one of the fastest growing companies in New Jersey -- The New Jersey Cooperator's Expo provided a unique opportunity to highlight how their customized property management services can benefit prospective homeowners associations and residential communities all across New Jersey. The Expo is a vibrant forum to communicate with building service professionals, attend educational seminars and discover what's new in the residential housing community.
"We were able to speak to hundreds of board members throughout the day and introduce the people who have made us a top-rated property management company to a highly targeted audience of decision makers," explained Martin Laderman, founder and president of mem property management corporation, "it is one thing to advertise why someone should choose mem property management, but there is no substitute for a personal connection."
As one of the most important New Jersey real estate industry events on the calendar, Expo attendees participate in educational seminars led by leading experts relating to environment hazards, security and privacy, insurance, bylaws enforcement, construction project management, dealing with difficult residents, hiring practices and more.
mem property management was one of the leading sponsors of the event and by having the largest booth at the show, offering refreshments to weary attendees and its gift bag and food court sponsorship, the mem logo and company principals were present throughout the Expo, meeting and greeting attendees. "I had a wonderful day and I loved the convenience of the location and the excitement of mem's exhibit and presenters, said Theresa Silkie, an Expo attendee, "thank you for a job well done and also the coffee and muffins were the best!"
Scott Shafer, a local contractor, had the following praise for the mem property management team, "keep doing the same thing, your booth was very professional looking and projected the image of a first class organization."
With mortgage rates at historic lows, real estate price appreciation at a record high and housing affordability (determined by home prices, income data and other factors) still very strong, New Jersey continues to play a leading role in the resurgence of the real estate market nationwide. Forward thinking property management companies like mem property management have capitalized on these strategic opportunities to gain market share.
Through a series of opportunistic acquisitions and a wave of recruiting many of the most experienced property management professionals in the region, mem has become one of the fastest growing private companies in the country (#556 on the prestigious Inc. 5000), while retaining the personalized touch and hands-on approach that has contributed to its success servicing multi-family properties in New Jersey.
"We invest in marketing because we believe that is the best way to highlight how our company offers value and service that are demonstrably superior to our competitors and we participate in events like New Jersey Cooperator's Expo so we can share our story with others," says Laderman, "this year was a great success and we look forward to participating in next year's Expo."
About mem property management corp
mem property management company is a privately held New Jersey property management company founded by Martin Laderman with the vision to increase property value through solid, experienced management. Since that time the company has expanded to manage dozens of properties from its New York border to the Jersey Shore and Gold Coast.
mem property management services many of the finest communities throughout New Jersey including many of the major developers and builders as well as communities as diverse as small ocean-front condominiums to large master-planned communities with several hundred homes to age-restricted retirement communities.
To learn more about mem property management news, services or its policies, please visit http://www.memproperty.com or call 201.798.1080.