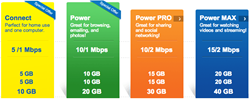 VSatellite.net now offers New Jersey residents the option to purchase a high speed Internet and unlimited phone calling service bundle saving 25% to 35% on their phone and Internet bill.
Trenton, NJ (PRWEB) October 01, 2013
VSatellite.net (http://www.vsatellite.net) is delighted to announce itself as one of the best satellite internet wireless service providers and offers Gen4 updated satellite internet technology to all counties in New Jersey with speeds up to 15Mb with unlimited local and long distance in the continental US as well as Canada.
They believe the Internet in New Jersey should be available to everyone, everywhere, and to make that possible they are working with Gen4 satellite internet technology, which has an upper hand on DSL and Cable Internet, as it does not require any cables or telephone lines to operate. Even people living in those hard-to-get rural areas can now have access to fast internet and additional remarkable services that VSatellite offers.
Benefits of New Jersey High Speed Satellite Internet:

Download Speeds up to 15 Mbps
Upload Speeds up to 2 Mbps
Faster Than DSL and Most Cable Providers in New Jersey
Available Almost Anywhere in New Jersey Where Cable and DSL Are Not
Unlimited Phone Calls throughout US and Canada
Does Not Need a Phone Landline
Low Monthly Rate
And much more...
Ron Legarski, owner of VSatellite.net says, "Satellite technology offers incredible quality, wherever you are in New Jersey, at very affordable rates. It is an amazing service that absolutely anyone can receive. There are many people living in more remote places where the internet connection is either poor or non-existent. This rural satellite Internet service changes way people living in New Jersey access the Internet for good!"
Voice and Larger Bandwidth of up to 15Mb capacity which allows its users to enjoy affordable phone service with Free Premium Features like call waiting and Caller ID is offered at cost effective and affordable rates. "The updated technology offers improved capacity and signal strength ensuring great Internet connectivity at speeds that people need for maximizing their use of today's Internet," says the New Jersey satellite retailer.
VSatellite.net makes the customers aware of all the latest special offers to ensure the convenience of its users. VSatellite.net enlightens the users about the most recent Gen4 technology, as well as features of their different services. Customers can order online as well as determine which system best meets their needs and they can avail the free standard installation services too. From their three service plans, the users can choose the plan that perfectly befits their needs and desires. This New Jersey satellite Internet provider would be more than happy to help the customers choose a service according to their budget and usage. Whether you are the person who only browses and downloads at night, one who works and only gets to surf on weekends, or a frequent user who is online all the time, they have service plans which cater the needs of all types of users.
New Jersey Satellite Internet service is now available in the following NJ counties:
Atlantic County, Bergen County, Burlington County, Camden County, Cape May County, Cumberland County, Essex County, Gloucester County, Hudson County, Hunterdon County, Mercer County, Middlesex County, Monmouth County, Morris County, Ocean County, Passaic County, Salem County, Somerset County, Sussex County, Union County and Warren County.
For more information on the coverage area for Satellite Internet, please visit: http://www.satelliteinternetrural.net/new-jersey.
The Gen4 is their 4th generation New Jersey high-speed satellite Internet service that provides maximum upload/download limits at affordable rates. The more powerful systems are ideal for watching TV shows, movies and streaming material. You can simply order online and in case you have any queries, you can simply give them a call. One of their customer care representatives would be more than glad to make customers aware of New Jersey Satellite Internet options available and with the process of ordering, installing, and getting started with this retailer.
VSatellite.net is a New Jersey satellite Internet retailer of satellite Gen4 technology that provides high speed, reliable service for all places including those where landlines and cables are difficult or perhaps impossible to access. VSatellite.net also offers phone services via satellite; it provides various international and national calling plans, with free premium features included. Its service called POWER MAX gives users speeds of up to 15Mbps and 40 GB of data, which is best for streaming and watching videos. These features will include waiting call identification, multiple phone forwarding, incoming call identification, and unlimited calling all over North America.
For more information on satellite Internet and phone service providers, please call toll free and speak with a representative today at 1-877-247-5156 or by visiting: http://www.satelliteinternetsatelite.com.