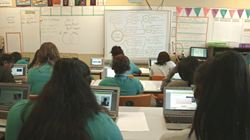 STEM Program Stats – 71% of Students exposed to this program said they learned about new careers. After taking this program over 37% are more likely to pursue STEM
Edison, NJ (PRWEB) April 18, 2016
According to studies, middle school is when children begin to form their career paths. To interest these students across the U.S. in STEM (Science, Technology, Engineering & Math) careers, and help combat summer learning loss, ALOHA Mind Math has teamed up with Learning Blade® to present their "STEMmer™ Camp." This is a new interactive gaming-based summer camp for 10-14 year old kids. The camp combines the computer-based learning "missions" along with teacher-led hands-on, design and engineering projects. Registrations have already begun; for more information regarding the STEMmer™ camp check ALOHA's summer camp webpage, or call 877-256-4203.
Many middle school students are not exposed to career possibilities in the STEM fields, so they don't follow a STEM learning track in school that would prepare them. ALOHA's STEMmer™ Camp, showcases Learning Blade's® research and this unique STEM computer program, which highlights STEM careers through their interactive online game-based "missions." Summer camp students can play the part of a team member employed in a STEM field. Kids and teens are exposed to STEM concepts through creative problem solving. This online learning is supplemented with teacher led hands on projects that also illustrate key STEM concepts. The concepts in these sessions is also linked to the Common Core.
STEM Stats –

Only 17% of students are prepared and interested in STEM jobs
Less than 25% of school time is spent on science
Middle school is where career interests are formed
71% of Students exposed to this program said they learned about new careers
After taking this program over 37% are more likely to pursue STEM
Learning Blade® has researched STEM careers and created this interactive program where students work to solve people-centered missions while they learn about the technologies and careers that solve problems in real life. ALOHA's STEMmer™ Camp has implemented this innovative computer program, along with teacher-led projects, so kids can begin to see the practical applications of science and technology in various careers and how they can impact lives. A few of the over 90 mission lessons include topics related to:

Robotics Design
Heart Surgery
Build an Orphanage after a Natural Disaster
Manufacturing – Design and Build a new Concept Car
Solving Transportation Issues
Handling a Flu Outbreak
In addition to engaging student's interest in the fields of Science, Technology, Engineering & Math, ALOHA's STEMmer™ Camp also combats summer learning loss. Kids who do not engage in summer learning score lower on standardized tests at the end of summer than they did at the beginning. ALOHA has created this summer camp with an engaging learning format to keep children having fun, while they are learning key concepts.
*Each ALOHA learning center is independently owned and operated; participation may vary. For more information: click here for summer camp info on ALOHA's website, check the ALOHA Facebook page, or call 877-256-4203 to find if a local center is participating in these programs.
ALOHA
Founded in 1993 in the U.S., ALOHA Mind Math, a leading provider of mental arithmetic and English Reading | Writing after school programs, has been guiding children between the ages of 5 through 12 to achieve academic excellence in grades 1 through 5. ALOHA is currently training children at 126 locations in 18 states across the US. New programs this year include its new STEM summer camp for 10-14 year olds, and Tiny Thinkers pre-school program for ages 3-5. The interactive learning process enhances a child's math, reading and writing capabilities. The teachers also assist children in developing skills and abilities such as observation and listening that result in the overall growth of the child. The ALOHA program is also in use in 20 countries worldwide.
For more details on this program please visit AlohaMindMath.com or search for the closest center by using the locator.