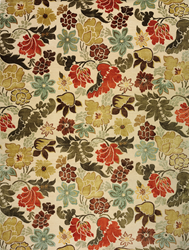 This week, Cyrus Artisan Rugs revealed their new inventory of luxurious, high-quality rugs from Lapchi.
Minneapolis, Minnesota (PRWEB) November 20, 2014
As November comes to a close, Cyrus Artisan Rugs continues to expand their product inventories both online and in-store at their Minneapolis showroom. The leading purveyor of hand knotted luxury carpets in the Midwest, Cyrus unveils new featured rugs from renowned handwoven carpet manufacturer, Lapchi. The large array of designs, styles, and color schemes of the new products is just in time for the season of holiday shoppers.
This week, Cyrus Artisan Rugs revealed their new inventory of luxurious, high-quality rugs from Lapchi. Lapchi carpets are internationally recognized for their handcrafted quality and rare custom designs that are never made in batches for stock. Lapchi carpets showcase Cyrus' passion for high-quality, unique, and handwoven pieces. Lapchi rugs are made by artisans in Nepal using handspun Tibetan wool, Chinese silk, or Indian silk, to ensure both beauty and resilience. The majority of the new hand knotted rugs featured at Cyrus are contemporary and transitional in style, bringing exciting new colors and contemporary aesthetic to the winter design board.
One of the standout rugs from Cyrus' new batch of arrivals includes the "Alpujara" transitional rug design. The "Alpujara" rug in the Pearl palette arrives with warm hues and new take on elegant damask motifs. The mix of contemporary and classic is sophisticated, pairing luminous neutrals and warm tones to create an entirely unique piece. This new area rug is timeless and long-wearing, hand knotted in Nepal using 100 knot wool and 45% silk with a light, soft pile finish. Another highlight from the new inventory of Lapchi rugs is the "Broadleaf" design. The Porcelain color palette is perfect for the holiday season of celebration, featuring golden hues, deep greens, and rich reds while the silk creates a gorgeous sheen and brings out the contemporary floral motif. The "Broadleaf" rug from Lapchi was expertly crafted in Nepal with meticulous care, using 150 knot wool and 65% silk to create soft pile finish that gives off a luxurious blanket feel.
Each of these handmade and rare rugs are featured on both Cyrus' online store and in their large Minneapolis showroom. Cyrus Artisan Rugs' showroom is over 13,500 square-feet with an inventory of over 3,000 handmade artisan rugs. Design lovers, industry insiders, and residents of the greater Minneapolis area should check out these truly one-of-a-kind carpets to get inspired for their own holiday decorating plans.
Cyrus Artisan Rugs
5115 American Blvd.
W. Bloomington, MN 55437
Phone: (952) 922-6000
-Contributed by TRIXMEDIA : Creating Possibilities
Branding Firm based in Beverly Hills, California.