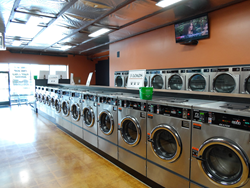 San Diego, CA (PRWEB) May 28, 2014
With a successful background in separate professions, Alex Zaydenberg and Robert Legg have combined their skills and teamed up with WSD's Steve Erlinger to develop their third successful coin-op laundromat business. Built on the coin-op laundry successful business model of "clean, bright and safe", the new Wash N Go follows the previous two with a contemporary remodel, and attention to detail and amenities.
The new Wash N Go store on El Cajon Boulevard is the largest location at 3,300 square feet and takes over a space previously used by unsuccessful laundromat businesses that lacked the quality equipment, service and amenities Wash N Go has built their name upon. To provide a space where customers can entertain themselves or catch up on work, the new Wash N Go offers free WiFi. It then goes the extra mile in convenience by offering free soap. The location also features a children's play area, fluff and fold and drop-off and pick-up service, and a hybrid self service and fluff and fold which allows customers to run errands while the coin-op laundry store attendants transfer clothes and linens from wash to dry.
Working with Erlinger, the owners chose a well-planned array of equipment for this Laundromat including state of the art Dexter Laundry equipment, which uses advanced technologies to wash and dry clothes faster and more efficiently. The equipment allows for time-of-day pricing, giving Zaydenberg and Legg the ability to reduce pricing during normally slow periods of the week to drive more business during those times and spread out the rush during the normally busy times. The new store fills up its larger space with twenty-four Dexter 50 Pound Stack Dryers, four Dexter 80 Pound, six Dexter 60 Pound, seven Dexter 40 Pound, ten Dexter 30 Pound, and five Dexter 20 Pound washers along with four smaller capacity Maytag top load washers. The array of machines gives customers the right amount of capacity for almost any size load.
For added convenience, the new Wash N Go location also offers the ability to pay with cash, credit card or loyalty card through the Spyderwash System. No longer do customers have to carry handfuls of quarters around the store. One swipe via the Spyderwash System and the transaction is complete. With the loyalty card program, Wash N Go customers earn discounts and rewards for continuing to do their laundry at Wash N Go locations.
The Wash N Go coin-op laundry on El Cajon Boulevard will operate from 6 a.m. to 10 p.m., seven days a week and will have attendants available 12 of the 15 hours of operation each day. Word is spreading fast about the new coin-op laundromat. Along with the glowing customer reviews of the previous two Wash N Go locations, Zaydenberg and Legg are using social media to reach new customers. In only three weeks the new Wash N Go coin-op laundromat has received over 500 likes on Facebook.
With 37 years experience as a premier, full-service distributor to the coin-op laundry industry, Western State Design has grown to become one of the largest coin laundry equipment distributors in the world. Western State Design is proud to be a Dexter Authorized Distributor, and has been recognized as No. 1 Dexter Distributor Worldwide in 2009, 2010, 2011, 2012 and 2013. Dexter Laundry located in Fairfield, Iowa, is an employee owned leading manufacturer of commercial laundry equipment. All equipment is manufactured in Iowa. Visit WSD online at http://www.westernstatedesign.com or call toll free at 1-800-633-7153.