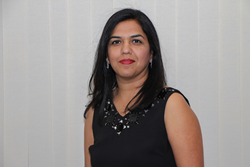 Teaching is my passion and when I get messages from my students' parents that they see a difference in their kids' focus, or how they absolutely love Math now; it is a joy to see young kids achieving so much. ALOHA Center Director Shweta Munjal
Dayton, Ohio (PRWEB) March 18, 2015
ALOHA Mind Math is celebrating the Grand Opening of their second learning center in the region in Centerville Ohio (South of Dayton), on April 11, from 10 am to 1 pm. The public is invited to join them for an overview of their math and their reading | writing programs and a tour of the new facility. A program overview will be held from 10:15 - 11:00 a.m., and students of the ALOHA learning center of Mason Ohio (the other center in the region closer to Cincinnati) will show off the ALOHA programs skills they have learned from 11 to 11:30 a.m. Light snacks and beverages will be served and there will be entertainment and games. Visitors may chat with the center owner, teachers, and even parents of students from the nearby Mason, Ohio location.
RSVP's are requested for this event so the center can be sure to accommodate everyone who is interested. This new, second center is located at 1147 Lyons Rd, Building D, in Centerville, OH 45458. For more information or to RSVP, contact the center at Centerville(AT)aloha-usa.com, or call 513-445-4820, or visit http://www.AlohaMindMath.com/Locations. You may also connect with them on Facebook: https://www.facebook.com/aloha.centerville; https://www.facebook.com/events/717938931656712/.
ALOHA has learning centers in 18 states across the U.S. This new center in Centerville Ohio will bring the company's reading | writing programs and their signature mind math program called ALOHA to more 1st through 5th grade students in the region. ALOHA stands for "Abacus Learning of Higher Arithmetic." An abacus is an ancient calculator tool used by sliding beads to count. If it sounds too simple to work, people might be surprised to learn that these instructor-led, small-class-size, math tutoring sessions teach children to solve complex arithmetic questions—think (128+432-46+514)/82—in their heads more quickly than most people can on a calculator. It can also help kids overcome math anxiety. The centers also offer a teacher-led reading | writing program to inspire children to read and write easily. The program works to motivate young minds and to develop a passion for reading and writing spontaneously. The ALOHA programs are designed for Grades 1-5, and ages 5-12.
"ALOHA Mind Math is pleased to be able to offer our math and reading | writing learning centers to more students in the Dayton Ohio area. This new center will expand the opportunities for parents searching for enrichment programs that help children reach their potential," said Mani Manickavelu, President and CEO of ALOHA Mind Math.
ALOHA Center Director of both the Mason and Centerville Ohio locations, Shweta Munjal, said, "I came across ALOHA when I was looking for a program for my daughter who was 7 at that time. I wanted her to have a skill that she could have for life and be able to use it not just in math but other subjects and outside of her academic life. ALOHA's Mind Math program was exactly that. I was disappointed that we did not have a location in Cincinnati but I was so impressed that I decided to open one myself. The first center has been running for three years. Teaching is my passion and when I get messages from my students' parents that they see a difference in their kids' focus, or how they absolutely love Math now, it just fills me with so much pride. It is a joy to see young kids achieving so much. Centerville will be our second location, which is south of Dayton."
What is ALOHA?
Launched in the U.S. in 2006, ALOHA is a leading provider of mental arithmetic and English Reading | Writing programs. ALOHA stands for "Abacus Learning of Higher Arithmetic." An abacus is an ancient calculator tool used by sliding beads to count. ALOHA has been guiding children between the ages of 5 through 12 to achieve academic excellence in grades 1 through 5. The interactive learning process is proven to enhance a child's math, reading and writing capabilities. The teachers also assist children in developing skills and abilities such as observation and listening that result in the overall growth of the child and that build confidence. ALOHA is currently training children in 18 states and in 20 countries with over 4,200 different centers. For more details on this unique program please visit our website and search for the center closest to you by using our locator alohamindmath.com/locations.