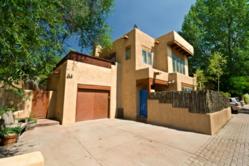 The $20,000 foreclosure savings and low FHA down payment rates could be all that's needed in turning renters into lifelong homeowners.
Albuquerque, New Mexico (PRWEB) July 09, 2013
Best Rate Home Loans, a national Internet network of real estate professionals pre-approved to work with loans from the Federal Housing agency (FHA), reports that recent data sees New Mexico's boomerang buyers—or those who purchase a home after losing a previous home several years prior to a foreclosure or short sale—saving $19,653 on average by purchasing homes that have previously been through a short sale or foreclosure. In other words, New Mexico's boomerang buyers are banking off the same situation that took them out of the homeowners market to begin with—but with foreclosures plummeting in the Land of Enchantment, the window of time in which to get in on the state's tremendously underpriced foreclosure inventory may be limited.
This news comes in light of a recent report from analytics company CoreLogic, which sees the median sales price for so-called "non-distressed" New Mexico homes at $153,000 for April. This is in comparison with a median sales price of $133,347 for foreclosure homes during the month, which comes to that difference of nearly $20,000 that foreclosure home buyers are saving. To illuminate the difference in these two home sale statuses, a "foreclosure home" simply means that the property was sold due to a previous homeowners financial status. This often has nothing to do with the upkeep of the home, which is part of the secret that has led to FHA-eligible boomerang buyers not only becoming homeowners again, but also leveraging the market and making a financial investment that could reap major dividends if the market continues in its upward fashion.
CLICK HERE to see if you are eligible for an FHA loan.
This information also comes at a time when home inventory is decreasing across the country due to a buying surge, causing national home listing prices to correspondingly jump. This includes a $9,500 bump in the national median list price from March to April alone. What this means is that despite the fact that buying a home is by no means snap-of-the-wrist decision, potential boomerang buyers will most likely only see home prices rise and the availability of top-tier foreclosure homes drop the longer they wait. This rings especially true for potential New Mexico FHA purchasers, as those RealtyTrac numbers saw foreclosures dip a very high 57 percent from March to April, in comparison with only 5 percent nationwide.
And when these factors are compounded with the low New Mexico FHA mortgage rates and down payment rates starting at 3.5 percent, it's clear that borrowers who even meet the state median income of $43,280 have a great shot at getting back into the housing market.
For example, a 3.5 percent down payment through the FHA only comes to a down payment of $4,667 on the median foreclosure sale price of $133,347. That's a difference of $22,020 that a borrower would pay on the $26,687 down that would be required through the typical 20 percent down payment rate that conventional lenders require.
About FHA loans:
The FHA has insured over 34 million homes since the program started in 1934.
FHA home loans offer low down payment plans, easy credit standards and diverse income calculations, making them attractive to wide array of buyers. This is especially true in contrast with the strict underwriting laws of conventional mortgage plans.
FHA-loan perks:
Low down payment staring at 3.5 percent
Easier credit score qualifications
Streamlined refinancing
All-in-one home renewals
Click Here to apply for an FHA Loan.
Best Rate Home Loans is a nationally practicing network of approved mortgage lenders and loan providers with professional expertise in FHA loans and other streamlined refinance and low down payment options. For more on the Boomerang Home Buyer Program, call 888-269-5585.