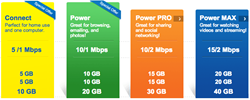 Wireless Internet Satellite.com now offers New Mexico residents the option to purchase a high speed Internet and unlimited phone calling service bundle saving 25% to 35% on their phone and Internet bill.
Santa Fe, New Mexico (PRWEB) October 06, 2013
Wireless Internet Satellite.com (http://www.wirelessinternetsatellite.com), an authorized Gen4 satellite retailer to all counties and homes in New Mexico, is now able to offer the fastest Internet connection speeds available at prices that make it affordable for every household and accessible for everyone, even to customers in remote communities. Houses in outlying areas can now be equipped with rural satellite Internet rather than having to rely on outdated dial-up or slow DSL service. But satellite broadband is also available to all customers, no matter where they live.
"No computer user should have to put up with slow dial-up or cable DSL service in this day and age. We make it possible for them to receive high-speed satellite Internet in New Mexico at very competitive prices that in many cases are lower than what they might be paying their current provider," states Ron Legarski, satellite solutions provider.
The premium New Mexico satellite Internet package available through the company website offers high speed connections up to 15Mbps, which is more than what most cable providers can offer. In addition, the company's whole range of satellite Internet plans make it possible for the subscriber to purchase one that best suits his or her needs and budget. Imagine accessing the Internet at 500 times the speed of dial up and as much as five times the speed of some DSL services.
Even with the satellite retailer's Power PRO plan, users will find the connection of 10 Mbps to be a fast way to do basic web browsing, access their email account and keep in touch with friends on social media websites, such as Facebook and Twitter. All packages are priced competitively with other New Mexico Internet service providers and in many cases they beat the current monthly fees that subscribers are paying by 30% on the phone service bundle. Consumers have access to 15Mbps of high speed satellite Internet and unlimited local and long distance calling to all states in the continental US and Canada.
New Mexico Satellite Internet service is now available in the following NM counties:
Bernalillo County, Catron County, Chaves County, Cibola County, Colfax County, Curry County, De Baca County, Dona Ana County, Eddy County, Grant County, Guadalupe County, Harding County, Hidalgo County, Lea County, Lincoln County, Los Alamos County, Luna County, McKinley County, Mora County, Otero County, Quay County, Rio Arriba County, Roosevelt County, San Juan County, San Miguel County, Sandoval County, Santa Fe County, Sierra County, Socorro County, Taos County, Torrance County, Union County and Valencia County.
For more information on the coverage area for Satellite Internet, please visit:
http://www.satellitedealers.net/new-mexico
Wireless Internet Satellite can also combine Internet service with a telephone plan, Gen4 Voice, that is also received via satellite, providing unlimited talking time for household or office phones in the United States and Canada. This invites consumers who pay $100 a month for speeds up to 15Mbps and monthly data allowances of 40 GB to compare its price and service with their current provider.
This New Mexico wireless Internet service provider provides satellite broadband for Internet and telephone use utilizing the Gen 4 network. The service is available anywhere and begins with a professional installation by a skilled technician. The company has a variety of satellite Internet plans available for a variety of users, including its Power package, Power PRO and the premium Power MAX, with the fastest connection speeds available.
For more information on satellite Internet and phone service providers, please call toll free and speak with a representative today at 1-877-247-5156 or by visiting: http://www.satellitedialup.com