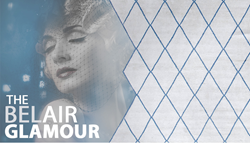 Los Angeles, California (PRWEB) September 10, 2014
Caravan Rug Corp. is one of the the top purveyors and manufacturers of fine, handmade area rugs based out of Beverly Hills, California. This month, they are excited to announce the arrival of a collection which exudes the glamour of the city they call home. The new "Belair" Collection of modern rugs recalls an era when design, fashion, and home decor was chic, clean, and simple yet glitzy. Cool colors, all white, crystal, diamonds. The Old Hollywood when stars and their style became celebrated and the decor of their homes relished. Now, Caravan Rug Corp. released a collection to celebrate the golden days. The Belair Collection is entirely hand knotted by artisans in India from the finest bamboo silk. The geometric motifs pair with cool color palettes to offer a serene area rug for the modern or vintage home.
Hand crafted by skilled artisans, the entire Belair Collection is gorgeous and timeless. With two designs and a variety of colors, the Belair Collection is sure to make a statement this fall. The first design known as "Benedict" is a modern take on the argyle or diamond pattern. This Geometric Rhombus is classic and fitting for a luxurious space. Available in two colors, "white and blue" and "gray white," these new modern rugs are a departure from the colorful, graphic prints Caravan released this summer. The other design, "Rasonare," is another modern take on a classic diamond print, with oversized diamonds and three cool color palettes. These chic modern rugs embody the ideal of simple elegance.
Another unique aspect of Caravan Rug Corp. is their Complete Custom Capability Program. This program allows clients to fully customize their area rugs in terms of style, color, material, and size. It is a truly innovative program for anyone interested in the realm of interior design or home decor.
Caravan Rug Corp.
8725 Wilshire Blvd
Beverly Hills, CA 90211
(310) 358-1222
-Brought to you by TRIXMEDIA : Creating Possibilities
Branding Firm based out of Los Angeles, California.