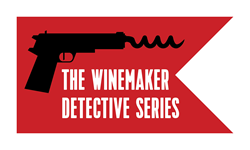 Do not read these books while hungry!
New York, New York (PRWEB) October 22, 2015
French countryside, fine food and wine, and light-hearted mystery are the hallmarks of the Winemaker Detective mystery series set in France. According to its US publisher Le French Book, this gourmet mystery series is building momentum. Bloggers are calling it an "obsession." Booklist says it will "whet the appetite of fans of both Iron Chef and Murder, She Wrote."
The cozy mystery series is already a hit TV series in France, and by the end of 2015 will have ten titles published in English, plus a special holiday omnibus edition. With its backdrop of lavishly described fine food and beautiful estates, wine tastings and wine production, this is a series for those who like detective stories that rely on the fine qualities of the investigator and for readers who are looking to travel as they read.
The publisher has now signed on the rest of the series for translation. This will add thirteen more titles to the catalogue, and the authors typically write two to three a year. "We are excited to continue this series, which provides an immersion into French gourmet attitude, wine loving and amateur sleuth mystery, with characters that grow on you. After Beaujolais and Alsace, upcoming titles will take readers to Hungary, Champagne, Romanée-Conti, Yquem, Corbières, Spain and other prime wine regions."
For Publishers Weekly, the series "Will appeal to wine buffs and those who dream of visiting a French countryside that is filled with chateaux and rascally nobility, and where all the women—and most men—are superb chefs."
The authors Jean-Pierre Alaux and Noël Balen, wine lover and music lover respectively, came up with the idea for the Winemaker Detective series while sharing a meal, with a bottle of Château Gaudou 1996, a red wine from Cahors with smooth tannins and a balanced nose.
Already published titles:
Treachery in Bordeaux
Grand Cru Heist
Nightmare in Burgundy
Deadly Tasting
Cognac Conspiracies
Mayhem in Margaux
Flambé in Armagnac
Montmartre Mysteries
Upcoming titles:
Backstabbing in Beaujolais
Late Harvest Havoc
The Winemaker Detective: An Omnibus
Slated for early 2016:
Tainted Tokay
Champagne Widows
Red-handed in Romanée Conti
About Le French Book
Le French Book (http://www.lefrenchbook.com) is a New York-based publisher that brings France's best mysteries and thrillers to new readers across the English-speaking world. Its motto is: "If we love it, we'll translate it."
©2015 Le French Book, Inc. All rights reserved. Information is subject to change without notice.