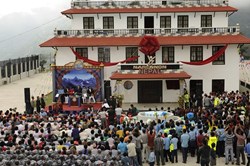 The people who have benefitted from Narconon are now not only drug-free but crime-free. This new center will be a ray of hope for the future generations of South Asia.
(PRWEB) December 13, 2013
This splendid new addition to the Narconon drug rehabilitation center network is in the mountainous Nuwakot District and has its own view of the Himalayas. Joining Nepal's Vice President at the colorful ceremony held earlier this fall was the Asst. Inspector General of Police along with hundreds of members of the Nepali police force, other government dignitaries, as well as school children, family members of Narconon graduates, and ethnic dancers. It was quite the affair.
"Over the past few years," the Vice President said, "drug addiction has become an epidemic in our country. Narconon Nepal is helping Nepali youth to come off drugs and to get free of their addiction problem." Former Supreme Court Judge Devendra Raj Sharma added that he had "handed down hard verdicts of punishment...during my service as a Judge, but when I studied the philosophy of L. Ron Hubbard I began to believe that only jail, institutionalizing, medicine, and counseling were not enough to rescue people with drug addiction and criminal behavior. We need a scientific and systematic approach of treatment and rehabilitation." He concluded that "I strongly believe the whole of South Asia will benefit from this new Narconon facility."
Former Nepal Health Minister Dr. Bansidhar Misra said, "When I entered the medical sector, I was searching for the solution to address the negative influence of drugs. At that time, I came to know Mr. Basanta Raj Kunwar was working for an organization known as Narconon. I was very influenced by Narconon Nepal...I think this is one of the best treatment centers in the entire world."
Basanta Kunwar, to whom the ex-Minister refers, is the president and founder of Narconon Nepal and also former Superintendent of Police of Kathmandu. Years ago, Kunwar became very concerned about the slave trade in women, kidnapped and sent to houses of prostitution in India. He quickly learned that they all became drug addicts and that in fact drug addiction and trafficking underlay this and many other social problems. He opened a drug rehab facility with the knowledge to hand, but looked immediately for better methodology. Soon he discovered the Narconon program model. With the help of Narconon International, the headquarters of the worldwide Narconon network, and of ABLE International, owner of the trademarks to Mr. Hubbard's secular social betterment works, Basanta and his wife Puja trained up and developed a full Narconon program. But they and their staff could only deliver to 60 young men and women. Aided by ABLE (Association for Better Living and Education), Kunwar applied to the International Association of Scientologists (IAS) for a grant to build a 100-bed Narconon residential treatment center which could also in future be used as a training center for drug rehabilitation staffs from all over Central Asia.
Years of design and construction effort have culminated in this spacious 4-story building on the top of a small mountain an hour outside of the ancient capital city of Kathmandu. The mountain is now named after Mr. Hubbard, the humanitarian and philosopher on whose work the Narconon program is based. Kunwar and his large staff are deservedly proud of their facility. "This center is not just the largest Narconon in Asia, but the second largest in the world," he said. "It will be the pride of all Nepalese people and help spread our anti-drugs campaign all over Asia."
This Narconon anti-drugs campaign includes an aggressive education program for the entire police force of Nepal. Bishma Prasai, Asst Inspector General of Nepal Police, commented that "Narconon Nepal has conducted massive drug awareness campaigns under my leadership." Having "closely seen the tremendous contribution made by Narconon Nepal in drug addiction rehabilitation," the AIG added, "I personally feel that this is one of the best and most well managed centers anywhere."
Officials from ABLE and IAS were on hand at the ceremony, welcoming this new facility into the Narconon network which now spans 42 foreign lands. Rubina Qureshi, Vice President of ABLE International, herself originally from Pakistan, proudly said that "the people who have benefitted from Narconon are now not only drug-free but crime-free. This new center will be a ray of hope for the future generations of South Asia."
Since 2006, Kunwar says, his center has graduated 480 people from the full 8-month Narconon program. Job training is also provided, and many of his graduates have gone on to work in different professions in Nepal and around the world. Of his current 50 staff, 35 are long-term graduates of the Narconon program, he proudly states.
Regarding current drug rehabilitation services, Narconon Nepal is accepting enrollees who speak Nepalese or English from around the world.
For more information on Narconon Nepal or the Narconon program, visit http://www.narconon.org or call (800) 775-8750.