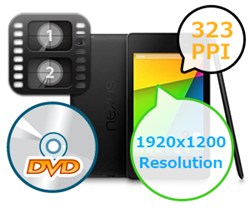 Profiles specific to Google's New Nexus 7 are scheduled to be added in our 5 major products, in response to the highest resolution (1920x1200).
(PRWEB) August 02, 2013
As the floodgate for the new Nexus 7 has been opened in the United States, Digiarty Software, a company specializing in DVD backup and video conversion solutions, announces the plan that the profiles specific to Google's New Nexus 7 are scheduled to be added in its 5 major products, in response to the highest resolution (1920x1200) of the new Android table model, after the slate is in abundant and extensive supply later on.
Digarty has been grappling with the profiles adaptive to playing movies and videos more conveniently on the high-resolution display of the second-gen Nexus 7. Since it is the first time that a tablet applies a 1920x1200 resolution and a pixel density of 323 pixels per inch, all the existing profiles built in the related Digiarty software are unfit for it. So the following programs developed by Digiarty are listed in the plan of being well-matched peripheral products for the high-resolution tablet running Android 4.3:
1.DVD Ripping Software: Designed to rip the content of DVD on PC and Mac for personal DVD backup, movie storage, DVD to video conversion and on-the-go playback, having hundreds of profiles to support rip DVD to AVI, MP4, MPEG, WMV, M4V, H.264, MOV, iPhone, iPad, iPod, Kindle Fire, Google Nexus 7, Samsung Galaxy Note, Galaxy S4, HTC New One, Xbox One, WP8, etc, being the fastest DVD conversion utilities ready for New Nexus 7:

2.HD/YouTube Video Conversion Software: The recently updated all-in-one and feature-rich video conversion/editing and YouTube downloading software running on Windows and Mac, each with nearly 400 A/V codecs and 280+ preset profiles, good at converting one video to another for video storage and playback on portable devices from Blu-ray videos and HDTV and HD-camcorders videos and other incompatible videos, having extra functions like video trimming, cropping and subtitling for Google's third tablet:
3.Tablet/Smartphone Dedicated Video Software: Especially for converting various HD and SD videos for Android and iOS devices, in brief, converting videos to devices.
All the five software programs will be updated with profiles for new Nexus 7 or any other upcoming hot gadgets concurrently or successively. Please view more about Digiarty's main products at http://www.winxdvd.com/product.htm
About Digiarty Software, Inc.
Digiarty Software, Inc. is specialized in multimedia software based on Windows, Mac OS and iOS 7, which provides personal and home used video audio software across Apple iPhone, iPad, Sony PSP, PS3, Xbox, Droid platforms and devices, including DVD Ripper, Blu-ray Decrypter, HD Video Converter, DVD Author, and DVD Copy, etc.