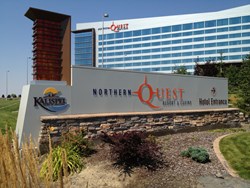 Spokane, WA (PRWEB) November 21, 2013
Northern Quest Resort & Casino, located outside of Spokane, WA, recently completed its on-premise laundry facilities to improve the quality and care of their linens. The Kalispel Tribe owns and operates the resort and casino, employing tribal and community members. After outsourcing their laundry services for years, the business decided the only way to maintain the quality they expect is to manage the operation in house.
Curtis Bash, Laundry Manager at Northern Quest Resort & Casino (NQRC), said that the reasons for adding an on-premise laundry include having more control over the process as well as minimizing damage and long wait times. The company they previously used was no longer meeting the quality levels required. NQRC is the only AAA rated four-diamond casino resort in the inland Northwest Region. Among the many amenities offered, NQRC provides spa services, 250 well-appointed rooms, 14 restaurants and lounges, and more.
Northern Quest Resort and Casino's motto is that "Life is too short for low thread count." Clean and high quality linens are very important to a comfortable and enjoyable stay at a resort. In addition to the new on-premise laundry, NQRC boasts exclusive bedding from Northwest Bedding, providing guests a pillow-top mattress, plush duvets and 350-thread count sheets. With soft and luxurious linens in hundreds of rooms, cleaning and maintaining their quality is a top priority.
NQRC built an on-premise laundry facility so they would no longer be dependent on a third party service for the care of their linens. With laundry done on-site, the quality of the luxury linens can be monitored and cared for more conscientiously. Bash specifically chose to work with Western State Design not only because of their experience in the laundry business, but he truly valued the local support offered for maintenance and other assistance.
Bash also noted the high quality equipment offered by WSD, which includes Chicago Dryer Co. and Milnor commercial laundry machines. Milnor washer-extractors and dryers are energy efficient, have shorter cycle times and integrated high, perforated ribs, no bolts to prevent fabric from tearing. Chicago Dryer Company specializes in flatwork finishing, the company designs and fabricates their own equipment to maintain quality and results.
Bash connected with area sales representative Rick Hall from WSD, and Bash has said that the relationship started strong and continues to be extremely positive. Whether he has to call sales for assistance or the service and parts department for maintenance or questions, the helpful staff is what instills in Bash the confidence that he made the right decision. When managing a large laundry facility, personal support for maintenance and questions about equipment is essential to keeping everything up and running.
Northern Quest Resort & Casino is located just 10 minutes west of downtown Spokane and only 5 minutes from Spokane International Airport. As the only tribally-owned AAA Four Diamond resort in the Inland Northwest and one of 28 lodgings in the entire state to receive this recognition, Northern Quest welcomes visitors with a contemporary urban setting and 250 luxurious guest rooms and suites. To learn more, visit http://www.northernquest.com.
Western State Design has provided innovative laundry solutions to meet clients' demands since 1974, providing design and construction services, commercial washer and dryer sales, parts and service. WSD brings worldwide expertise to its customers, with clients and projects throughout North and South America, Europe, and Asia. WSD's total solution approach has enabled them to become one of the world's largest companies in the laundry industry. Visit WSD online at http://www.westernstatedesign.com or call toll free at 1-800-633-7153.