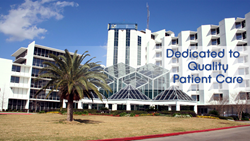 Marrero, LA (PRWEB) September 30, 2014
Residents of Jefferson Parish and the surrounding New Orleans metropolitan community are welcome to attend the 5th Annual West Jeff Family Fest, which will kick-off Friday, October 10. The event will take place at West Jefferson Medical Center, a facility that stands out among New Orleans hospitals for its commitment to hosting educational, family-friendly events.
Proceeds from this year's West Jeff Family Fest will benefit the West Jefferson Cancer Center, which is the only facility among New Orleans hospitals and medical centers to offer radiation therapy on the West Bank. West Jefferson Medical Center plans to use proceeds to fund treatments, transportation and to address survivorship and nutritional needs for cancer patients.
With free admission open to the general public, the West Jeff Family Fest offers a weekend of live music, great food and a variety of family-oriented activities for people of all ages. This year's West Jeff Family Fest will also feature amusement rides as the latest installment to the festival's repertoire. There will even be a trunk or treasure for children, as well as a children's costume contest.
Musical performances by local bands, such as Groovy 7, Nola Troublemakers, Aaron Foret, and Junior and Sumtin' Sneaky will provide this year's live entertainment. Attendees are invited to wear their most outrageous pink outfit October 11 and join the "I Pink I Can" two-mile fun run/walk in support of breast cancer awareness, and car enthusiasts may enjoy the October 10 Cruise Night.
Finally, this year's West Jeff Family Fest will premiere its very first "Battle for da' Paddle" Jambalaya Cook-Off, a charitable event presented by the West Jefferson Hospital Foundation. The first ten teams to register with West Jefferson Medical Center will be eligible to compete in the cook-off. An all-you-can-eat jambalaya meal will be available for attendees and cook-off spectators to sample and enjoy for a price of $10 per person, while supplies last. This event will take place on October 11 from 10 am - 4 pm. Various other festival activities include the new carnival rides, games, raffles, door prizes, and bike and car shows.
Those interested in attending or learning more about the 2014 West Jeff Family Fest may ask for additional information from staff members at West Jefferson Medical Center, located behind West Jefferson Hospital at 920 Avenue B in Marrero, Louisiana 70072.
About West Jefferson Medical Center
Founded in 1956, West Jefferson Medical Center (WJMC) is a community hospital located in Marrero, LA, just 10 minutes from downtown New Orleans. As a full service medical center, WJMC offers comprehensive programs for preventive, emergency, acute and rehabilitative care with a medical staff of more than 400 physicians and a complement of more than 1800 employees and many volunteers. WJMC serves a community of more than 180,000 people. Located near vast industrial quarters, the medical center also serves business and industry across the Gulf South. Clinical excellence divisions include: neurosciences, cardiovascular services, and an academic community cancer center. To meet the community needs, West Jefferson Medical Center Physician Services includes both primary care and specialty clinics located across the West Bank of Jefferson Parish. The medical center enjoys awards for clinical excellence across many of its subspecialties.