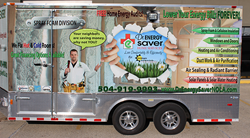 New Orleans, LA (PRWEB) March 19, 2014
Sunlight Contractors, LLC, a New Orleans company that offers solar panel installation and other services designed to increase home energy efficiency, is pleased to announce the addition of spray foam insulation to its roster of solar and home energy efficiency services for Louisiana homeowners.
As an industry leader, Sunlight Contractors, LLC aims to provide homeowners with the knowledge and service to make their homes as energy efficient as possible. They remain at the forefront of innovations in the field of home energy efficiency, and now offer spray foam insulation services as an effective tool for homeowners.
Many homeowners and builders choose fiberglass and cellulose insulation when building a new home, but spray foam insulation has been shown to have numerous advantages over traditional materials and can dramatically increase efficiency and reduce energy costs. Sunlight Contractors, LLC can work with homeowners building a new home to achieve optimum energy efficiency right from the start.
Rigorous testing has shown that spray foam insulation has a much higher R-value (a measure of the insulation's ability to resist heat that travels through it) than fiberglass and cellulose. Unlike traditional insulation materials, spray foam insulation can air seal. When air moves through fiberglass and cellulose, the insulation simply becomes an air filter. This results in a drafty home or an attic that passively heats a home in the summer, requiring the air conditioning to compensate and run more often. Spray foam can seal off attics from the outside and allow the air conditioning to run less often, extending the life of AC equipment and ultimately saving money on electric and fuel bills.
With their new spray foam insulation services, Sunlight Contractors, LLC can now help homeowners reduce future energy costs when building a new home. Certified specialists can advise on spray foam insulation services and provide home energy audits to determine additional measures - such as solar power or solar heating - that can be taken to increase home energy efficiency.
For more information about Sunlight Contractors' new spray foam insulation services, visit http://www.sunlightcontractors.com or call (855) 617-6527 or (504) 222-2082.
###
Sunlight Contractors are experts in New Orleans solar panels and technology, specializing in residential renewable energy and solar power for Louisiana. The company offers the most comprehensive solar energy systems on the market - including dual systems with both solar PV and solar thermal systems - and features a team of certified HERS Rating Specialists and BPI Building Analysts.