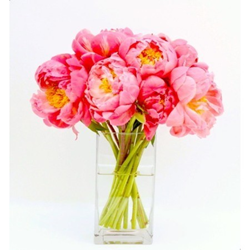 The return of peonies each spring is among the most eagerly awaited annual events in the flower world each year. We are thrilled to offer NYC luxury flower shoppers this spring's new peony arrangements for Manhattan delivery.
New York, New York (PRWEB) April 03, 2017
New York City Luxury Florist Gabriela Wakeham Floral Design today premieres its luxury peony collection for spring 2017. Included are four high-end floral arrangements featuring the best peonies delivered in New York City. The oversized, intricate blossoms are offered in distinctive shades of white, blush, deep red and bold coral pink. In many reports on popular flowers, both formal and anecdotal, peonies consistently rank near the top of the list as favorites.
In creating a new range of luxury floral arrangements featuring peonies, an emphasis has been placed on designs that display the flowers in their entirety. Several are taller styles in modern clear vases showing the peony completely from stem through blossom.
Luxury Peonies Delivered in New York City are Perfect for Thank You, Congratulations, Birthday, Get Well and Sympathy
In terms of high-end spring flowers, few blooms rival the popularity of the peonies we delivery in New York City. During spring multiple varietals come into season, giving flower lovers a range of exceptional choices. One of the greatest advantages of peonies is their inherent tendency to look both classic and modern at the same time. This is especially true in luxury flower arrangements featuring only the blooms themselves, artfully arranged into a precise arc of huge blossoms. When placed and kept in fresh water, they can be longer lasting among cut flowers.
Because of their striking appearance and colors ranging from soft and subtle to bright and bold, they can be excellent choices are many occasions. Ordering peonies for delivery in NYC is a natural idea for congratulations and thank you gifts. They are as suitable for personal occasions as they are for business needs. The peony also makes a perfect flower to send to a family member, friend or loved one who is recovering from illness or surgery as an elegant symbol of your well wishes. In addition, peonies are among the most distinctive blooms to send as sympathy flowers, exuding a sense of serenity and beauty.
The Best Peonies Delivered in New York City By a High-End Local Florist
In offering an extensive collection of peony flower arrangements and others featuring orchids, calla lilies and roses, Gabriela Wakeham has a buy-on-demand approach to assure clients of absolute freshness. Each morning master florists scour the markets for the freshest stems, hand selecting each one in small batches, and with a preference for responsibly and sustainably grown flowers. This attention to detail continues with the arrangements themselves as senior floral designers create each piece by hand and work with an unerring attention to detail. A sense of precision and elegance distinguishes each peony arrangement.
Relationships are also important when it comes to the best peonies delivered in NYC. Gabriela Wakeham deals only with top growers and wholesalers. Knowing the flowers themselves, how they are raised and where they come from contributes a surprising amount of added value. With this approach peonies included in new arrangements can be longer lasting and larger in size on a consistent basis. Especially important in larger and taller peony arrangements, the perfection and strength of each stem becomes of increased importance.
Peonies and Spring Flowers Delivered to Events in Manhattan
Thanks to their large size, which is viewable from a distance and continues to exude elegance, peonies are preferred spring luxury flowers for high-end floral event installations in New York City. In fact they are often at the center of joyful bouquets of spring flowers created for business events and special occasions. In addition to the luxury peony arrangements offered to individual clients, event floral design services are available and can easily be created to showcase peonies in shades ranging from white, blush and soft pink, to brilliant coral pink and deep rich burgundy.
Peonies are a great spring flower to consider for spring parties or gatherings – or included in dinner table centerpieces for galas and fundraisers. They are among the largest flowers and at the same time among the most intricate and therefore naturally elegant. Peony centerpieces can often be the most talked about and memorable, especially in luxury and high-end settings. Depending on the event theme and aesthetic, they can be used as the lead bloom or mixed in as part of a multi-blossom bouquet.
Peony Floral Arrangements with Delivery in NYC for Administrative Professionals Appreciation Day and Mother's Day
The spring peony season naturally coincides with two important occasions to order spring luxury flowers delivered in New York City – Administrative Professionals Appreciation Day and Mother's Day. In creating the newest peony arrangements Gabriela Wakeham's master florists had in mind creating beautiful gifts for very important people in our lives. The peony color range and the style of arrangement are perfect for both occasions. Given the popularity of peonies and size of the arrangements, they are likely to be well appreciated and remembered.
In addition to single flower designs focused on peonies, available choices also include several popular and highly rated mixed flower bouquets. In one luxury arrangement, soft pink peonies are mixed with pink roses and placed in an elegant white cylinder vase. In another, tall burgundy peonies and mixed with long-stem roses for a beautifully modern effect. Several arrangements of seasonal spring flowers also include peonies during this period of the year, and many others can be customized or expanded to include peonies.
A Local Master Florist Delivering in New York City With the Best Peony Collection for 2017
Gabriela Wakeham is a high-end local florist delivering in New York City. Founded in Tribeca in 2009, it today delivers luxury flowers in Manhattan as far north as 135th Street, as well as to Williamsburg. Long Island City, Dumbo, Astoria and Brooklyn Heights. While the currently service territory has been expanded significantly, the company continues to place an emphasis on its original downtown neighborhoods. It specializes in flower delivery to Tribeca, Soho, Hudson Square, Wall Street, lower Manhattan and Battery Park City. With approximately 75 exclusive floral arrangements featured on its website, Gabriela Wakeham is a leading boutique florist in New York City.