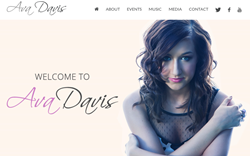 It's the hard working, pavement pounding, musicians that make it in this business and Ava Davis has certainly proven that she deserves to be where she is. The sky's the limit! -Torri Barnette-Broxton
Nashville, Tenn. (PRWEB) March 30, 2015
GoHooper.com announces launch of website for Nashville-based pop music artist, Ava Davis. The 18-year-old is influenced by the sounds of Norah Jones, and Colbie Caillat, but her vocal styling is an infusion of pop and jazz punctuated by her own unique twist.
She is currently writing songs for her new self-titled EP to be released in 2015, but her current songs can be found on her website - http://www.AvaDavis.com
Ava lends her talent to several different charitable organizations. Most recently, she performed at the Spring Hill Pay it Forward festival benefiting the Well Outreach food pantry, and the Tennessee children's home. She is also a regular performer for Tunes for Tots.
Ava is an artist who is not only no stranger to the stage but is also musically well beyond her years. She began performing at fairs and festivals at the age of 12. She has also performed at venues throughout the Southeast, such as, "The Commodore Grille", "3rd and Lindsley", "Opry Mills Mall", "The Fillin Station", "Twangs", "Nashville Palace", "Wild Wing Cafe'", and many others.
Ava plays the piano/keyboard and is now learning guitar. She also started competing in competitions at a very young age. Among many others, she has won the "Lincoln's the Voice" contest, the "Sing Your Heart Out" competition, and the "Rising Star of TN". She also placed in the top 5 for the "CCM Create an Artist" contest.
GoHooper.com is a full-service web design agency based in Nashville that provides affordable web development, graphic design, branding, social media, SEO, internet marketing, video production and print & TV commercials for clients across the country.