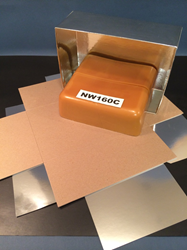 The Primo protein adhesives are new modified protein adhesives that machine well and develop tack.
Philadelphia, PA (PRWEB) May 28, 2014
For many years, rigid box and laminating companies have struggled to find an effective industrial adhesive to utilize on difficult substrates including Mylar, nylon, matte scruff-resistant, matte OPP, foil, recycled board and soft touch film laminations. Two primary issues needed to be addressed:
•Ballooning effect
•Pop-ups due to the Mylar wrap not adhering to the Mylar lining
Even though L.D. Davis already provides the best protein adhesive solution for box making on the market, their technical department has now produced the new Primo protein adhesive line to improve adhesion on these demanding low surface energy cover materials and address the primary issues.
The Primo protein adhesives, NW 160, are new modified protein adhesives that machine well and develop tack during application while improving the overall final bond. L.D. Davis can also produce other custom formulas for special applications.
Advantages of new Primo Adhesives
•Eco-friendly – biodegradeable
•Machines cleang
•Reduces bubbling on finished product
•Quick tack during application
About L.D. Davis
L.D. Davis is a third generation industrial adhesive manufacturing company near Philadelphia, PA focused on helping customers solve bonding issues. Furthermore, they are North America's premier and largest protein adhesive compounder and one of the top glue suppliers in the country. Overall, L.D. Davis produces over 20 million pounds of protein adhesives each year for bookbinding, box making, food and beverage, product assembly and packaging industries as well as many specialty applications. With five warehouses strategically placed throughout the US, L.D. Davis is able to meet your specific shipping requirement. For questions and comments about our new Primo protein adhesives, please give us a call 1-800-883-6199.