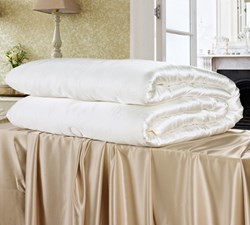 Top quality silk comforters with silk shells will bring you complete sleep all night round.
Freeport, NY (PRWEB) February 14, 2014
Lilysilk.com, a well-known silk bedding store, has recently introduced its high quality silk comforters and duvets to customers worldwide. As winter is almost coming to an end, it is time to prepare the switch from heavy duvets and thick mattress protectors to something lighter and more breathable.
With years of manufacturing experience of silk comforters, Lilysilk insists on only using 100% pure silk floss to layer the filling of their fitted comforters. The company tackles the filling to the hem so as to avoid worrying about bunching, cold spots or shakedown in the morning. This time, Lilysilk staff utilizes some new techniques to improve the design of comforters, reducing some weights of the duvets to satisfy needs of more people. According to Mike Lee, their summer comforters only weigh 0.9kg to 1.5kg at most. He said in a meeting, "Most households have air conditioners. There is no need to bury yourself in a thick and heavy comforters. Instead, you need the lightweight and organic silk comforters at night."
In 2014, Lilysilk promises to spare no energy to provide quality silk bed sheets and comforters for old and new customers. "We have just had our Chinese New Year holidays as well, and we would like to wish you a great Year of the Horse....As spring comes, it is time to change our bedding wardrobes, which is why we would like to offer you the lightweight and breathable silk comforters, as well as the luxurious silk bedding sets....Top quality silk comforters with silk shells will bring you complete sleep all night round," says, Mike Lee.
Additionally, Lilysilk's bed sheets are made from high quality silk fabrics, and come with a money-back guarantee. Customers could feel assured to purchase at such a reliable online store. More information about Lilysilk bedding store and its products & promotions can be found at: http://www.lilysilk.com/.