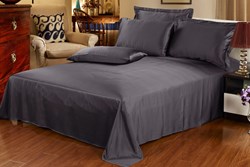 Our 25 momme weight silk sheets will make your life different.
San Antonio, TX (PRWEB) February 19, 2014
Lilysilk is a China-based manufacturer and retailer of silk bedding wares, which has recently added some new options of silk flat sheets to its categories. Now, the company is introducing its 4 styles of flat sheets, including 19 momme seam silk flat sheets, 19 momme seamless ones, 22 momme seamless ones, and 25 momme seamless ones, to new and old customers worldwide.
As a leading silk bedding company, Lilysilk pays close attention to the styles and quality of silk bedding wares. The business has been in the industry for years, and it is the place where clients can find and buy their favorite bedding quickly at competitive prices. Its CEO, Mike Lee, is a responsible gentleman who says that, "Our customer-oriented designs and services have helped us to become a leader in the industry. Please be assured that we will continue to offer the best quality silk products to customers."
Many customers may know that all Lilysilk products are well manufactured from 100% pure mulberry silk fabrics. Silk flat sheets are certainly no exception. These flat sheets run from the simple and elegant to the ornate and are specially designed to fit bed sizes. They are featured with these characteristics: breathable fabrics, smooth touching feeling, elegant looks, and delicate craftsmanship.
Mike Lee continues, "We are proud to supply 25 momme silk flat sheets which are rare in the current market. Our 25 momme weight silk sheets will make your life different."
Lilysilk is devoted to designing and manufacturing high quality silk sheets at affordable prices to stay ahead of the industry. The company is selling all kinds of silk bedding wares for bedroom decor, including silk duvet covers, flat sheets, fitted sheets, pillowcases, etc. All these items can be shipped by UPS or FEDEX for free.
For more information about the details of silk flat sheets, please visit http://www.lilysilk.com/.